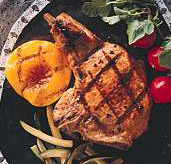 Recipe created by FabFood on

Jul 23, 2007
View more recipes by FabFood.
Prep: –
Cook Time: –
Total: –
Serving: –
Recipe for Pork Chops with Maple Syrup Glaze. This recipe combines sweet and savory flavors in a perfectly balanced combination that can be made on a grill, in the broiler, or on a stovetop.
Ingredients
6 bone-in pork chops, 1 1/4-inch-thick
1/4 cup plus 2 tablespoons maple syrup, divided
4 tablespoons olive oil, divided
3 tablespoons balsamic vinegar, divided
2 shallots, thinly sliced
4 bay leaves, finely chopped
2 tablespoons juniper berries, coarsely chopped
1 tablespoon chopped fresh sage OR 1 teaspoon dried
2 teaspoons minced garlic
1 teaspoon cracked black pepper
salt to taste
Directions
Drain chops, discarding marinade. Sprinkle chops with salt. In a small bowl stir together the 2 tablespoons maple syrup, 1 tablespoon olive oil and 1 tablespoon balsamic vinegar; set aside.
Place chops on a kettle-style grill directly over medium-hot coals, lower grill hood and grill chops for 12 to 16 minutes, turning once, until chops are barely done. Brush chops with syrup mixture. Lower grill hood and grill for 1 minute more. (Note: You can alternatively broil, or pan fry the pork chops.)
Nutrient Information per Serving:
Calories: 240
Sodium: 68 mg
Protein: 26 gm
Cholesterol: 76 mg
Fat: 10 gm