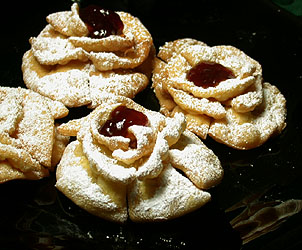 Recipe created by FabFood on

Jul 23, 2007
View more recipes by FabFood.
Prep: –
Cook Time: –
Total: –
Serving: –
Recipe for Chrusciki rosettes -- Polish Cookies. These would make perfect favors for weddings, or ladies' luncheons, as well as for the traditional celebratory reasons of Easter and Christmas.
Ingredients
2 eggs at room temperature
4 egg yolks at room temperature
1/2 teaspoon salt
1/2 cup confectioner's sugar
2 cups flour
1/4 cup softened butter
1 shot (1 1/2 ounces) of brandy, rum, brandy, or whiskey
1 egg white vegetable shortening, canola oil or lard for frying confectioner's sugar for dusting 1 cup or so of jam, jelly or candied cherries (optional)
Directions
Makes About 3 Dozen Cookies
In the bowl of an electric mixer with the whisk attachment, beat eggs, egg yolks and salt until thick and lemon colored. Slowly beat in the powdered sugar, brandy and alcohol of choice.
Change to the dough hook attachment on the mixer. Slowly mix in 2 cups of flour. Use the dough hook to knead the dough for 3-5 minutes. The dough should be thick, almost like bread dough.
Rolling and Frying the Cookies To roll the dough you will be working with small balls of dough. Keep the rest of the dough in the bowl, covered with a clean damp kitchen towel to keep it from drying out while you are working.
Take a piece of dough about the size of a baseball. On a floured surface, use a rolling pin to roll the dough out very thin -- 1/8 of an inch at the most!
Go through your cupboard and find three glasses in descending sizes (or if you have 3 round cookie cutters of different sizes, so much the better). Each rosette is comprised of 3 circles of dough, so use the glasses to cut circles out of the thinly rolled dough (Photo 1).
Take a sharp knife and cut slits evenly around the circles from the outside edge to not quite to the center. Cut 6 slits in the largest circle and 4 slits into each of the 2 smaller circles (Photo 2.)
In a large pot or deep skillet heat about 3-4 inches of shortening, oil or lard until very hot. (You could alternatively use a deep fat fryer with clean oil.) Test the oil by putting in a small scrap of dough, it should sink to the bottom then immediately float to the top. When this happens your oil is ready.
Use a large slotted spoon to gently lower each rosette into the hot oil Fry the cookies in small batches -- depending on the size of your pot -- no more than 3 at a time (Photo 4). Fry for about 1 minute (possibly a little less) then use tongs to gently remove the cookies. The cookies should just be barely golden brown. Drain on paper towels or on a wire rack set on a baking sheet. Dust liberally with confectioner's sugar. If desired fill the center of the rosette with a dab of jam or jelly or a candied cherry. Store cool cookies in an airtight container.
1. 2. Brush a small amount of eggwhite onto the center of the largest circle. Staggering the slits so they are place on top of each other, center the second circle on top of the first, pressing gently so the egg white acts like glue to hold the two together. Repeat with the last circle. (Photo 3) 3. 4.