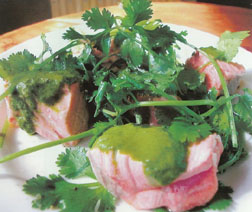 Recipe created by FabFood on

Jul 23, 2007
View more recipes by FabFood.
Prep: –
Cook Time: –
Total: –
Serving: –
Recipe for Poached Salmon with Cilantro and Cumin Vinaigrette. This is a lovely, full-flavored salad that could easily be a meal by itself.
Ingredients
Poached Salmon:
2 pounds salmon fillets, skinned and pin bones removed
2 cups dry white wine
1 1/2 teaspoons black peppercorns
1 jalapeño chile, cut in half lengthwise
1/2 white onion, thinly sliced
5 sprigs flat-leaf parsley
Vinaigrette:
1 jalapeño chile, sliced into thin rings
2 tablespoons white wine vinegar
3 tablespoons freshly squeezed lime juice
3/4 cup extra virgin olive oil
1 tablespoon cumin seed, toasted and ground
1 teaspoon salt
1/2 teaspoon freshly ground black pepper
2 cloves garlic, crushed
1 bunch cilantro, tough stems removed
Mojo Verde (see related links below for recipe)
Directions
To poach the salmon, in a medium saucepan, combine the wine, peppercorns, jalapeño, onion, and parsley, and bring to a boil. Pour the boiling liquid through a sieve directly over the salmon. Cover tightly. After 2 minutes (3 minutes for pieces thicker than 1 inch), drain off the liquid and put the fish in the refrigerator to cool. It should be perfectly cooked, slightly rosy in the middle, after chilling.
After it is completely cool, cover the fish. You can prepare the fish up to this point a day in advance.
To make the vinaigrette, combine the jalapeño and vinegar in a small saucepan and bring almost to a boil over medium-high heat. Remove from the heat and let cool completely, allowing the chile to infuse the vinegar. Add the lime juice and whisk in the oil. Add the cumin seed, salt, pepper, and garlic, and whisk it all together.
To assemble the salad, toss the cilantro in a medium bowl with enough of the vinaigrette to coat it lightly. Make a loose bed of the greens on individual plates. Tuck the poached salmon in among the leaves and top each salmon piece with a dollop of Mojo Verde.
Filed Under:
Seafood, Fish, Camping, RV, Low Carb, Low Fat, New Year's, Valentines Day, Mother's Day, Spanish, Restaurant Recipes