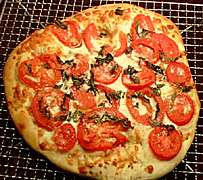 Prep: –
Cook Time: –
Total: –
Serving: –
Recipe for Pizza Margherita. Named after Queen Margherita, wife of Italy's King Umberto I, this classic has the simple, yet highly flavorful combination of fresh basil and fresh tomatoes.
Ingredients
1 recipe Basic Pizza Dough (click here for recipe)
6 ounces grated mozzarella cheese
1/4 cup olive oil
2-3 minced garlic cloves
3 -4 tablespoons fresh basil, chiffonade
4 -5 fresh Roma or Italian tomatoes, thinly sliced
Directions
Roll out pizza dough. Brush dough evenly with olive oil/garlic mixture. Spread mozzarella cheese on pizza leaving a 1/2 border for crust. Top with tomato slices and chiffonade of basil.
Bake pizza for 10 to 15 minutes or until crust is lightly browned.
Remove pizza and let cool on a wire rack for 10 minutes before slicing.
Enjoy!