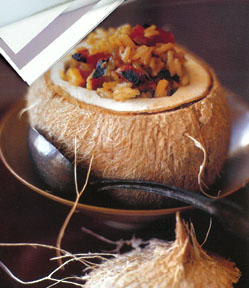 Recipe created by FabFood on

Jul 23, 2007
View more recipes by FabFood.
Prep: –
Cook Time: –
Total: –
Serving: –
Recipe for Pineapple and Sweet Sausage Rice in Young Coconuts. Young coconuts, used in this exquisite recipe, are sold in Asian markets and in some large supermarkets.
Ingredients
1 teaspoon white peppercorns
3 cups cooked Thai long-grain jasmine rice
1 cup vegetable oil
3 shallots, thinly sliced
1 teaspoon sea salt, plus a couple of pinches
3 garlic cloves, minced
1 tablespoon minced ginger
1 medium onion, finely chopped
2 Chinese or Portuguese sweet sausages, grilled and thinly sliced
1 cup finely diced pineapple
2 tablespoons soy sauce
2 tablespoons fish sauce (nam pla)
3 young coconuts, tops chopped off and reserved, drained
3 pieces (12 x 18 inch) aluminum foil
Directions
1. Put the peppercorns in a small skillet and dry-roast over high heat, sliding the skillet back and forth over the burner to prevent burning, until the peppercorns exude a pleasant aroma, about 1 minute. Remove from the heat and let cool, then grind in a spice grinder. Transfer to a bowl and set aside.
2. Put the rice in a bowl and break up the clumps with your hands or a fork. Set aside.
3. Heat the oil in a large skillet over high heat for 1 minute. Add the shallots and stir for a minute or two, then add a couple of pinches of salt and stir until the shallots turn golden. Remove with a fine-mesh strainer to a plate lined with paper towels and let cool. Pour all but 2 tablespoons of the oil into a bowl and let cool before transferring to a jar with a tight-fitting lid; refrigerate and use for other stir fry dishes. Set the skillet aside.
4. Heat the grill.
5. While waiting for the grill to get hot, pound the remaining 1 teaspoon salt and the garlic in a mortar with a pestle into a fine paste. Add the peppercorns and cilantro and pound into a paste. Transfer to a small bowl and set aside.
6. Heat the reserved 2 tablespoons of oil in the skillet over high heat. Add the spice paste and sauté for 10 to 15 seconds. Add the ginger and sauté for another 10 seconds, and add the onion. Stir-fry until the onion is limp and translucent. Add the rice, sausages, and pineapple and stir-fry until all the ingredients are well mixed. Remove from the heat.
7. Fill the coconuts with the fried rice and top with the crispy shallots. Cap the coconuts with the reserves tops and wrap in aluminum foil. Place in the grill over medium heat and grill for 15 minutes. Cover the grill and grill for another 15 minutes. Be sure to open the vents in the top of the grill.
8. Transfer the coconuts to a plate, unwrap the foil, and serve hot.