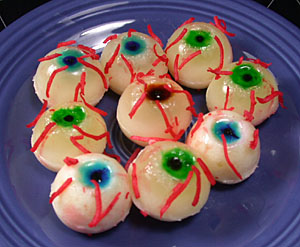 Recipe created by FabFood on

Jul 12, 2008
View more recipes by FabFood.
Prep: –
Cook Time: –
Total: –
Serving: –
Pina Colada Gelatin Shot Eyeballs for Halloween. This recipe makes a 12 pack of eyeball gelatin shots for the adults at the party. THe eyeballs look creepy on a bar or buffet.
Ingredients
3/4 cup Bacardi frozen Piña Colada drink mix, thawed
1/3 cup rum or coconut flavored rum
1/4 cup heavy cream
2 tablespoons unflavored gelatin For Cornea and Iris and Bloodshot Veins
food colors (preferably paste colors)
water
1 teaspoon unflavored gelatin
1 tablespoon sweetened coconut (optional) funnel
toothpicks
tweezers
Directions
Makes 12 Gelatin Eyeballs
The eyeball molds come in a two parts. Lightly spray both parts with cooking spray or brush with vegetable oil and pop the top part of the mold onto the bottom. The instructions come with the molds and set aside.
Prepare gelatin mixture by sprinkling unflavored Gelatin over the thawed pina colada mix in a small saucepan. Allow gelatin to soften for about 10 minutes. Turn on the heat and stir and cook until Gelatin completely melts and mixture is smooth. Remove from heat and whisk in the cream and rum.
Use a funnel to pour the mixture, through the top opening, into the prepared molds. IMPORTANT NOTE: Stir the mixture frequently while pouring -- like before each eyeball, as it tends to separate -- with the alcohol at the bottom (the top when unmolded). Sometimes, they tend to separate into layers anyway, as in the photo, but this works as the gelatinous semi-clear layer add to the creepy realism of the eyeballs, but keep stirring to keep an even amount of Gelatin in each eyeball.
The instructions that come with the eyeballs instruct you to use small plastic plugs that come with the mold at this point, to seal off the top. We found this to be an unnecessary step, but you can do this if it makes you feel better.
Chill molds for several hours or until set (sometimes they will set in an hour or so, but I usually like to allow more time for a firmer set).
Carefully unmold the eyeballs, cutting off any excess from the top stem so that they sit flat when turned over.
Prepare Cornea and IrisMix 1 teaspoon unflavored gelatin into a half cup of boiling water. Use a toothpick to mix in a small glob of paste food color in shade of your choice (we used blue, green and brown -- making a separate batch for each color). Stir until smooth. (If you don't have paste color, use a few drops of liquid food color.) Use either an eyedropper or a small drinking straw that you hold your finger over one end to keep liquid trapped inside. Pick up a small amount of colored Gelatin and carefully, drop by drop, place it into the cornea indentation on the eyeballs. Allow to set for a half hour or so. To make the iris, take a toothpick and dip it into a jar of paste dark colored paste food color (we used purple and brown), then pierce center of cornea to leave behind the dark dot for the iris. Use a clean toothpick for each eyeball in order to not contaminate your food colors.
Prepare Bloodshot Eyeball Effect (optional)Place 1 or 2 teaspoons of water in a tiny cup or bowl and stir in a small glob of red paste food color (or a few drops of liquid). Stir in the sweetened coconut. Mix well until coconut absorbs the red color. Pour onto a plate with a couple of layers of paper towels to absorb excess liquid. Use tweezers to place the damp coconut strands onto the eyeballs -- the moisture will hold them in place -- it doesn't matter if they're not perfectly flat.
BUY THE BRAIN and Other Creepy Halloween Molds! Buy the brain mold on this page as well as other creepy Molds and get everything you need to create professional looking carved pumpkins plus ultra cool Halloween decorations, party accessories and much more. Click here to shop!
Chill until ready to serve. (Note -- add the coconut as late as possible as the red colors can "bleed" into the white part if the eyeballs or the fridge are too moist.)