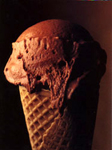 Recipe created by FabFood on

Jul 23, 2007
View more recipes by FabFood.
Prep: –
Cook Time: –
Total: –
Serving: –
Recipe for Bittersweet Chocolate Sorbet. Because this sorbet is made from premium quality chocolate, not cocoa powder, it has a compelling depth of flavor and an intensity usually associated with ice cream.
Ingredients
7 ounces (200 grams) bittersweet chocolate, preferably Valrhona Guanaja, finely chopped
1 (scant) cup (200 grams) sugar
2 cups (500 grams) water
Directions
1. So that you can quickly chill the sorbet mixture before you churn it, set up an ice-water bath by filling a large bowl with ice cubes and water. Set aside a smaller bowl that can hold all the ingredients.
2. Put all the ingredients in a heavy bottomed medium saucepan over low heat. Cook stirring frequently, until the mixture reached the boil - this can take 10 minutes or more. Then stir without stop and pay attention: this will bubble furiously. boil for 2 minutes, then pour the mixture into the smaller bowl. Set the bowl into the ice-water bath. Allow the mixture to chill, stirring now and then.
3. Freeze the sorbet in an ice-cream maker following the manufacturer\'s instructions. You can serve the sorbet directly from the ice-cream maker or pack it into an airtight container and freeze until needed.
Keeping: While best eaten within a few hours of churning, if packed airtight, the sorbet will keep its smooth texture for about 1 week in the freezer.
Filed Under:
Frozen, Vegetarian, Make Ahead, Kid Friendly, Low Fat, Eating Light, New Year's, Valentines Day, Mother's Day, Father's Day, Fourth of July, Christmas, Freezer Friendly, Gluten Free