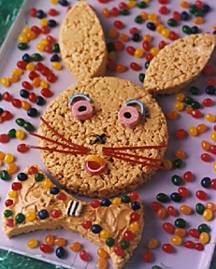 Recipe created by FabFood on

Jul 23, 2007
View more recipes by FabFood.
Prep: –
Cook Time: –
Total: –
Serving: –
Recipe for Peanut Butter Bunny Crisp Cake. The kids will surely love this cake for Easter!
Ingredients
6 tablespoons butter or margarine
2-10ounces packages of marshmallows
2 cups creamy peanut butter
10 cups crisp rice cereal
no-stick cooking spray
jelly beans, licorice gum drops, or decorative candy
Glaze (optional)
1/2 cup butter or margarine
1/2 cup brown sugar, packed
2 tablespoons milk
1 teaspoon vanilla
2 1/2 cups sifted powder sugar
Directions
1. In large saucepan, melt butter over low heat. Add marshmallows. Stir until completely melted and remove from heat.
2. Stir in peanut butter and mix well to incorporate.
3. Add rice crisp cereal and stir until well coated.
4. Press into two 9-inch pans, well coated with cooking spray and allow to cool.
5. Cut ears and bow tie from one cake. This is done by cutting two football shaped ears from the top and bottom of one cake layer, leaving a bow tie-shaped piece in the middle.
6. Position two ears at top of whole round cake and place bow tie under face.
7. Apply optional glaze, if desired. Decorate with jelly beans, marshmallows, licorice, and gum drops or any of your favorite cake decorations.
Filed Under:
Cakes, Candies and Sweets, Other, RV, Picnics, Brown Bagging, Quick and Easy, Make Ahead, Kid Friendly, Low Fat, Easter