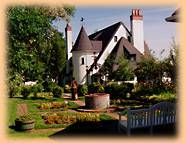 Recipe created by FabFood on

Jul 23, 2007
View more recipes by FabFood.
Prep: –
Cook Time: –
Total: –
Serving: –
Recipe for Paella from the Pansy Patch Bed and Breakfast, New Brunswick, Canada. This recipe makes good use of the maritime province's seafood bounty.
Ingredients
1 teaspoon vegetable oil
1 cup long grain rice
1 teaspoon curry powder
1 teaspoon salt
2 cups chicken stock or water
1 garlic clove pressed or minced
1 small red onion, thinly sliced
1/2 red bell pepper, julienne
1/2 green bell pepper, julienne
1 cup broccoli florets
1/2 pound snow peas
12 large raw shrimp
9-12 large raw scallops
9-12 fresh mussels, scrubbed and de-bearded
1 pound haddock fillets, cut into bite-sized chunks
2-3 tablespoons oyster sauce
2-3 tablespoons dry white wine
Directions
Place oil in a saucepan and brown the rice over medium heat for 2-3 minutes. Stir in curry powder and continue to cook for 1 minute, stirring constantly. Add salt and stock or water, cover and bring to a boil. Immediately reduce heat and simmer for 20 minutes or until rice is tender and all the liquid is absorbed.
Spray a large skillet with cooking spray and sauté garlic and onion until slightly tender. Add shrimp and scallops and stir fry for 1 minute. Stir in remaining ingredients. Cover and simmer until mussels have opened (about 5-6 minutes).
To serve, spoon rice in center of serving plates and top with seafood and vegetables. Discard any mussels that haven't opened.
Filed Under:
Fish, Shellfish, Camping, RV, Quick and Easy, Kid Friendly, Low Fat, Eating Light, Spanish, Mediterranean, Restaurant Recipes