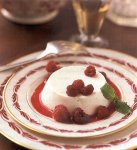 Recipe created by FabFood on

Jul 23, 2007
View more recipes by FabFood.
Prep: –
Cook Time: –
Total: –
Serving: –
Recipe for Panna Cotta with Raspberry Sauce. Panna cotta means cooked cream in Italian, even though it is barely cooked at all. This dessert manages to be light, refreshing and elegant at the same time.
Ingredients
1 envelope unflavored gelatin
1 cup milk
1/2 vanilla bean or 1 1/2 teaspoons vanilla extract
1 3/4 cups heavy or whipping cream
1/4 cup sugar
1 strip (3\" by 1\") lemon peel
1 cinnamon stick (3 inches)
Raspberry Sauce:
1 package (10 ounces) frozen raspberries in syrup, thawed
2 tablespoons currant jelly
2 teaspoons cornstarch
Directions
1. In 2-cup measuring cup, evenly sprinkle gelatin over milk; let stand 2 minutes to soften gelatin slightly. With knife, cut vanilla bean lengthwise in half; scrape out seeds and reserve.
2. In 1-quart saucepan, combine cream, sugar, lemon peel, cinnamon stick, and vanilla bean halves and seeds (do not add vanilla extract); heat to boiling over high heat, stirring occasionally. Reduce heat and simmer, stirring occasionally, 5 minutes. Stir in milk mixture; cook over low heat, stirring frequently, until gelatin has completely dissolved, 2 to 3 minutes.
3. Discard lemon peel, cinnamon stick, and vanilla bean from cream mixture. (Stir in vanilla extract, if using.) Pour cream mixture into medium bowl set in large bowl of ice water. With rubber spatula, stir mixture until it just begins to set, 10 to 12 minutes. Pour cream mixture into eight 4-ounce ramekins. Place ramekins in jelly-roll pan for easier handling. Cover and refrigerate panna cotta until well chilled and set, 4 hours or up to overnight.
4. Meanwhile, prepare Raspberry Sauce. Into a non-reactive 2-quart saucepan, with back of a spoon, press raspberries through a fine sieve. Discard seeds. Stir in the jelly and cornstarch. Heat over high heat until boiling, stirring constantly; boil 1 minute. Serve at room temperature or cover and refrigerate for up to 2 days.
5. To unmold panna cotta, run tip of knife around edges. Tap side of each ramekin sharply to break seat. Invert onto plates. Spoon Raspberry sauce around each panna cotta and sprinkle with raspberries.
Filed Under:
Puddings and Mousses, Vegetarian, RV, Make Ahead, Kid Friendly, Low Fat, Eating Light, Valentines Day, Easter, Mother's Day, Father's Day, Christmas, Italian