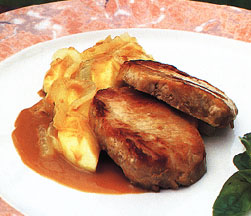 Recipe created by FabFood on

Jul 23, 2007
View more recipes by FabFood.
Prep: –
Cook Time: –
Total: –
Serving: –
Recipe for Pan-Seared Loin of Pork with Derry Apple Relish. This recipe is all in the presentation. You'll wow your family and friends.
Ingredients
2-pound boneless loin of pork trimmed of excess fat and sinew
3 tablespoons unsalted butter
1 onion, diced
1 rib celery, finely diced
1/4 cup all-purpose flour, seasoned with salt and pepper
1 tablespoon safflower oil
2 Granny Smith apples, cored and sliced
1 teaspoon finely chopped sage
1/2 teaspoon chopped rosemary
1/4 teaspoon ground cinnamon
2 teaspoons orange zest
1 1/2 cups apple cider
salt and freshly ground black pepper
fresh basil leaves, for garnish
Directions
1. Slice pork into 8 equal pieces.
2. In a heavy-bottomed skillet, over the medium heat, melt butter. Add onion and celery; sweat, without coloring, 2 minutes. Transfer to 2-quart casserole.
3. Dust pork pieces with seasoned flour.
4. In a skillet, over high heat, sear pork pieces on the oil. Remove.
5. Arrange apples on top of onion in the casserole. Add the pork, mixed with the remaining ingredients.
6. Bring to a boil. Cover, lower heat, and simmer, 1 hour.
Presentation:
Transfer the pork, apple, and onions to a serving platter. Reduce the cooking liquid by half. Strain and pour over the pork. Garnish with fresh basil leaves.