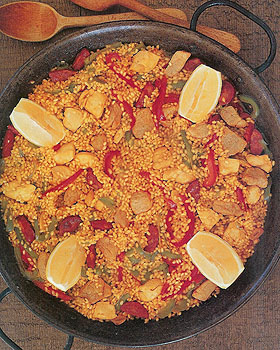 Recipe created by FabFood on

Jul 23, 2007
View more recipes by FabFood.
Prep: –
Cook Time: –
Total: –
Serving: –
Recipe for Paella de Carne - Meat Paella. Make this paella when everyone is home and it will soon be your family's favorite dish.
Ingredients
2 cloves garlic, unpeeled
3 1/2 cups chicken stock
1 1/2 teaspoons sweet pimenton or paprika
pinch of saffron threads
1/2 cup olive oil
1/2 green bell pepper, seeded and cut lengthwise into narrow strips
1/2 red bell pepper, seeded and cut lengthwise into narrow strips
1/4 pound beef tenderloin tip, cut into small pieces
1/4 pound boneless skinless chicken breast, cut into small pieces
salt
1 (3 ounce) chorizo, cut into 1/2 inch dice
1 1/2 cups Spanish rice
1 lemon cut into 4 wedges
Directions
Preheat the oven to 500° F. Place the garlic cloves in a small baking pan or dish and roast in the oven for 10 to 15 minutes, or until the skin is browned.
Meanwhile, in a small saucepan, bring the stock to a boil. Add the pimenton and a few of the saffron threads and decrease the heat to maintain a simmer.
When the garlic is ready, remove from the oven and leave the oven on. When the garlic is cool enough to handle, peel it, place it in a blender or food processor, and add 1/2 cup of the simmering stock and the rest of the saffron. Process until well blended. Set aside.
In a large (about 15 inch) paella pan, heat the olive oil over medium-high heat. Add the bell pepper strips and cook, stirring often, for about 10 minutes, or until tender.
Sprinkle the beef and chicken pieces with salt and add them, along with the chorizo, to the pan. Cook, stirring often, for about 5 minutes, or until the meats are lightly browned, but still undercooked. Add the rice and stir to blend well with the remaining ingredients, allowing the rice to absorb a little of the oil. Spread the mixture evenly in the pan. Pour the hot stock into the pan, increase the heat to high, and bring the mixture to a boil. Add the garlic mixture, stir gently to incorporate, and continue to boil for 5 minutes without stirring. Decrease the heat to medium and cook for 5 minutes longer. Because the bottom of the paella pan is most likely wider than the reach of the burner's heat, shift the pan from side to side on the burner to distribute the heat evenly. Do not stir the mixture.
Taste the stock and season with salt if necessary. Transfer the pan to the oven and cook for 7 minutes longer. The liquid will be absorbed and the rice will be tender. Remove from the oven, cover with a lid or kitchen towel, and let rest about 7 minutes before serving. Serve with the lemon wedges on the side.