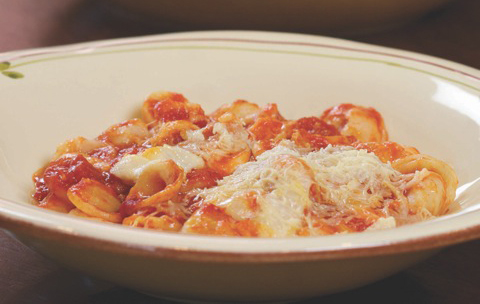 Recipe created by FabFood on

Jun 1, 2011
View more recipes by FabFood.
Prep: –
Cook Time: –
Total: –
Serving: 4 servings
This rich and comforting vegetarian dish is very satisfying and pairs well with a medium-bodied red wine and crusty bread. It makes a perfect Sunday lunch or a work night dinner, because the tomato sauce can be prepared ahead of time.
Reprinted with permission from The Puglian Cookbook by Viktorija Todorovska, photos by Michael Potts, Agate Surrey, 2011.
Ingredients
For the basic tomato sauce:
2 tablespoons extra virgin olive oil
4 cloves garlic, peeled and thinly sliced
2 (28-ounce) canned whole tomatoes, chopped
Salt, to taste
1 teaspoon sugar
For the orecchiette:
2/3 package dried orecchiette (about 2 cups)
Basic tomato sauce
3/4 cup fresh mozzarella cheese, cubed
1/2 cup provolone cheese, cubed
1/2 cup grated pecorino cheese, for sprinkling
Directions
In a medium pan, heat the olive oil and garlic over low heat. When the garlic starts to sizzle, continue to cook it for a couple of minutes, or until it starts to change color. Do not let the garlic become brown, as that means it is burnt and will taste bitter.
Add the tomatoes and their juice and continue cooking at a slow simmer over low heat for 15 to 20 minutes or until the sauce thickens. As the sauce starts to thicken, season with salt to taste and add the sugar (to balance the acidity of the tomatoes).
Preheat the oven to 400 degrees F.
In a large pot, bring to a boil 4 quarts of water. Salt the water generously, add the orecchiette, and cook to al dente, according to the package instructions.
In a casserole dish, layer the orecchiette with the tomato sauce. Add the mozzarella cheese and provolone cheese and stir to combine.
Sprinkle with the pecorino cheese and bake for 15 to 20 minutes, or until the cheese on top forms a crust.