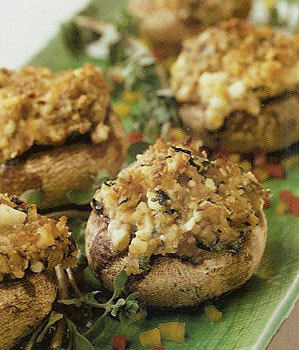 Recipe created by FabFood on

Sep 9, 2008
View more recipes by FabFood.
Prep: –
Cook Time: –
Total: –
Serving: –
Recipe for Old Fashioned Stuffed Mushrooms, a savory appetizer of herbed breadcrumb stuffed mushroom caps that's open to lots of flavorful variations.
Ingredients
16 medium white mushrooms (about 14 ounces)
1 tablespoon butter, margarine, or vegetable oil
1/4 cup minced onion
1 small garlic clove, minced
1/3 cup dry bread crumbs (plain or flavored)
2 tablespoons chopped fresh parsley
1/4 teaspoon salt, or to taste
1/8 teaspoon ground black pepper
Directions
Makes 16 Mushrooms, Serves 3 to 4
1. Preheat the oven to 375° F.
2. Wipe Mushrooms clean with a damp cloth and separate the caps from stems. Set the caps aside and chop the stems.
3. In a medium skillet, melt the butter or margarine (or heat the oil) over medium-high heat. Add the onion and garlic; cook, stirring, until softened, 1 to 2 minutes. Add the chopped mushroom stems; cook, stirring, until softened, about 3 minutes. If Mushrooms give off liquid, cook until it evaporates. Remove from heat. Stir in bread crumbs, parsley, salt, and pepper.
4. Spoon about 1 tablespoon of filling into each of the mushroom caps, place into a 9 X 13 inch baking pan. Bake 12 minutes or until heated through.
Variation: Herb Stuffed Mushrooms Use seasoned bread crumbs plus 1/2 teaspoon chopped fresh basil and 1/8 teaspoon chopped fresh thyme.
Filed Under:
Snacks, Vegetarian, RV, Make Ahead, Kid Friendly, New Year's, Valentines Day, Thanksgiving, Christmas, Finger Foods, Vegetable, Vegan