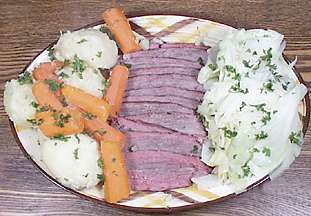 Recipe created by FabFood on

Aug 16, 2008
View more recipes by FabFood.
Prep: –
Cook Time: –
Total: –
Serving: –
Recipe for Old Fashioned Corned Beef and Cabbage. Here is a classic recipe for a St. Patrick's Day favorite entree.
Ingredients
1 corned beef brisket, about 4 pounds
1 juice orange
18-20 whole cloves
1 teaspoon whole yellow mustard seeds
1/2 teaspoon caraway seeds
1/2 teaspoon whole black peppercorns
1/2 teaspoon whole coriander
3 pounds small potatoes, peeled (I like to use Yukon Gold in this dish)
2 1/2 pounds carrots, peeled and cut into large pieces
1 medium head cabbage
Directions
TIP: If your brisket came with a spice packet, you can use that instead of the mustard seeds, caraway seeds, peppercorns and coriander.
Place corned beef in large stockpot. Wash orange, with peel on, then roll around on the counter, pressing down to release the juice inside. Push whole cloves into the orange, scattering them randomly. Cut orange in half, gently squeeze some of the orange juice onto the corned beef and place clove studded orange halves in the pot. Sprinkle spices over meat, then add enough water to cover. Bring to a boil, reduce heat, cover and simmer until beef is tender, about 3 hours. Drain.
About 40 minutes before beef is finished, boil a large pot of water and cook potatoes and carrots. Add cabbage about 10 minutes before you're ready to serve as it doesn't need to cook long. Drain vegetables.
Arrange meat and vegetables on a platter and serve with your favorite mustards.