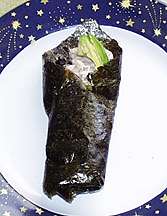 Prep: –
Cook Time: –
Total: –
Serving: –
Recipe to make Nori Wraps. In Japan, you'll find all kinds of ingredients wrapped in sheets of roasted nori or sea vegetable -- we like to use tuna salad, crab salad, or egg salad.
Ingredients
1 large sheet roasted nori
3-4 tablespoons sandwich filling of choice such as tuna salad, shrimp or crab salad or egg salad
additional ingredients are similar to sandwich garnishes: lettuce, sliced avocado, sprouts, sliced onion or tomato, etc.
1/4 cup cooked rice (optional)
Directions
Recipe Makes 1 Wrap Multiply by the amount you want to make
Place a sheet of nori on a plate and add a thin layer of rice,if desired, down the diagonal center, top rice with a layer of sandwich filling and andd additional ingredients as desired (we used avocado and sprouts in the photo).
To fold the wrap bring up th bottom corner and begin rolling in the sides from the left to right. The technique is much like rolling a burrito. Continue rolling , tucking the ends under each other and you'll have a neat bundle like shown in the final photo above. We opted to leave the top open, but you could also fold the top point down and tuck it under, making a completely nori encased wrap.
Filed Under:
Fish, Shellfish, Sushi, Sandwiches and Wraps, Camping, RV, Picnics, Brown Bagging, Quick and Easy, Make Ahead, Kid Friendly, Low Carb, Low Fat, Eating Light, Japanese, Gluten Free, Egg Main Courses