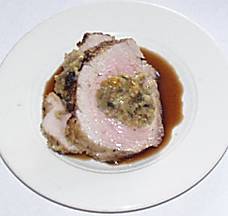 Recipe created by FabFood on

Jul 23, 2007
View more recipes by FabFood.
Prep: –
Cook Time: –
Total: –
Serving: –
Recipe for Mushroom Stuffed Grilled Pork Tenderloin with Pomegranate and Ruby Port Sauce
Ingredients
4 tablespoons olive oil
3 teaspoons chopped ginger
1 tablespoon minced shallots
1 tablespoon minced garlic
3 large golden chanterelle mushrooms, sliced in 1/4" slices
1 fresh porcini mushroom, sliced in 1/4" slices
6 fresh shitake mushrooms, sliced in 1/2" slices
15 small whole morel mushrooms
2 tablespoons light soy sauce
1 teaspoon balsamic vinegar
1/2 cup cooked couscous
2 pounds pork tenderloin (usually 2 tenderloins)
2 tablespoons canola oil
3 tablespoons fresh basil, chopped
salt and pepper to taste
pomegranate and ruby port sauce (click this link for recipe)
Directions
Prepare Pomegranate and Ruby Port Sauce.  Set aside.
To prepare stuffing:
Add olive oil to a sauté pan and heat until smoking. Add ginger and sauté for about 1 minute. Add the shallots and garlic and cook until limp and yellow in color, stirring rapidly to prevent browning. Add the sliced mushrooms and cook over medium-high heat (you don't want them to weep so keep the heat high) for about 8 minutes, stirring frequently. Add the light soy sauce, balsamic vinegar and couscous. Stir and season with salt and pepper. Remove from the heat to cool.
To prepare the pork loins: Starting at the large end, insert a sharp knife into the center of the loin, and carefully, working backward, open a pocket down the length of the loin. Take care not to cut through to the outside. Using a spoon, scoop the cooled mushroom mixture into the pocket in the loin. To cook: Put canola oil into a sauté pan and heat until smoking. Season the pork loins with salt and pepper and sear over very high heat until both sides are well browned. Turn heat down to medium and cook about 5-7 minutes per side. Remove from heat and let rest for 2 minutes. Slice at an angle and move to a warm platter. Top with the Pomegranate and Ruby Port Sauce and garnish with fresh basil.
Filed Under:
Pork, RV, Kid Friendly, Low Fat, Eating Light, New Year's, Valentines Day, Easter, Mother's Day, Father's Day, Thanksgiving, Christmas, Restaurant Recipes