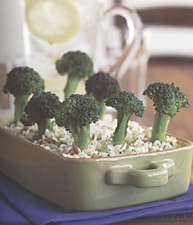 Recipe created by FabFood on

Jul 23, 2007
View more recipes by FabFood.
Prep: –
Cook Time: –
Total: –
Serving: –
Recipe for Mollie Katzen's The Enchanted Broccoli Forest. Mollie says she came up with this ingenious presentation of broccoli trees planted in herbed rice pilaf for two artist friends.
Ingredients
2 cups brown or white rice
1 pound fresh broccoli
1 tablespoon butter or canola oil (plus a little extra for the pan)
1 cup chopped onion
3/4 teaspoons salt
1 large clove garlic, minced
2 tablespoons fresh lemon juice
2 tablespoons minced fresh dill (or 2 teaspoons dried)
3 tablespoons fresh mint (or 3 teaspoons dried)
1/4 cup minced fresh parsley
pepper to taste
cayenne to taste
Options:
1/2 cup toasted sunflower seeds
1/4 pound Swiss or cheddar cheese, grated
a little extra butter for the top
Directions
Trim the tough bottoms from the broccoli stalks and cut the tops into smallish spears of whatever size suits you.
Preheat oven to 325° F.
Lightly grease a 9 x 13 baking pan. Melt the butter or heat the oil in a large, deep skillet or Dutch oven. Add the onion and salt and saute over medium heat for about 5 minutes or until the onion begins to soften. Add the garlic and the lemon juice and saute for about 2 minutes longer. Stir in the rice, some black pepper and cayenne to taste along with the optional ingredients. Taste to correct salt, if necessary, and spread in the prepared pan.
Now the fun part. Arrange the broccoli upright in the rice, and, if desired, drizzle with melted butter. Cover loosely with foil and bake just until heated through (15 -20 minutes). Serve right away.
Filed Under:
Rice and Grains, Broccoli, Vegetarian, RV, Quick and Easy, Make Ahead, Kid Friendly, Low Fat, Eating Light, Gluten Free, Vegan