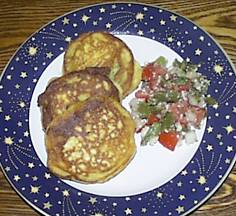 Recipe created by FabFood on

Jul 23, 2007
View more recipes by FabFood.
Prep: –
Cook Time: –
Total: –
Serving: –
Recipe for Mollie Katzen's Fried Green Tomato Pillows. Mollie's version of this Southern classic is substantial enough to serve as a light entree.
Ingredients
1 cup unbleached white flour
1 cup corn meal
2 teaspoons baking powder
3/4 teaspoon salt
1/8 teaspoon cayenne
1 cup milk
2 large eggs
2 large unripe tomatoes (about 1 pound) cut into 1/2" slices
a little oil or butter for the pan
Optional Garnish:
sour cream or plain yogurt
Directions
In a separate bowl, beat together the milk and eggs until frothy. Make a well in the center of the dry ingredients and pour the milk/egg mixture into this well. Stir until thoroughly combined, but don't overmix.
Core the tomatoes and cut them into 1/2" rounds. Meanwhile begin heating a little oil or melting a little butter in a skillet over medium heat. Add the tomato slices to the batter one by one, pushing them around gently with a spoon until they are well coated. Lift them from the batter with the spoon, and add them to the hot skillet. (You might need to spoon a little extra batter on top of each tomato, so no bald spots are peeking through.)
Fry on both sides until crispy and golden. Serve hot, topped with sour cream or plain yogurt, if desired.
Filed Under:
Other, Vegetable Dishes, Tomatoes, Vegetarian, Camping, RV, Quick and Easy, Kid Friendly, Mother's Day, Father's Day, Fourth of July, Vegetable