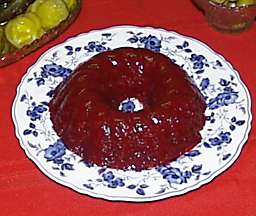 Recipe created by FabFood on

Jul 23, 2007
View more recipes by FabFood.
Prep: –
Cook Time: –
Total: –
Serving: –
Recipe for Molded Cranberry Sauce. This recipe combines the best of jelled and whole cranberry sauce made in an attractive decorative mold for a spectacular presentation.
Ingredients
3 cups fresh cranberries
3 1/2 cups cranberry juice cocktail (you can also use blends like cran-apple or cran-raspberry juice)
4 envelopes unflavored gelatin -- 2 ounces total
2 1/3 cups sugar
2 tablespoons lemon juice
Directions
Combine cranberries and sugar in a food processor. Process with short pulses until the cranberry are finely chopped. In a large saucepan, combine berry/sugar mixture with remaining cranberry juice and lemon juice. Bring to a boil over medium heat, stirring frequently. Reduce heat and simmer, partially covered and stirring frequently, until cranberry bits are tender, about 8 minutes. Remove from heat and stir in gelatin mixture until gelatin dissolves. Cool slightly and pour into an 8 or 9 cup mold. Cover and refrigerate until firm -- at least 8 hours. Can be made up to 2 days ahead of time.
Pour 1 cup cranberry juice in a small bowl and sprinkle the gelatin over it. Let stand until gelatin To unmold, turn mold over onto a plate. Soak a kitchen towel in hot water and wrap it around the inverted mold. Let stand for a minutes, them remove towel. Holding plate and mold together, gently shake until cranberry sauce falls from mold onto plate. If your mold is being stubborn, repeat the process with another hot towel.
Filed Under:
Cranberry, Relishes and Chutneys, RV, Make Ahead, Kid Friendly, Low Fat, Eating Light, New Year's, Thanksgiving, Christmas, Fruit