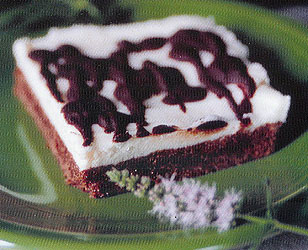 Recipe created by FabFood on

Jul 23, 2007
View more recipes by FabFood.
Prep: –
Cook Time: –
Total: –
Serving: –
Recipe to cook Mint Buttercream Brownies. These are fudgy with a "hint of mint" and a smooth buttercream...yum!
Ingredients
Brownie Base:
2 ounces unsweetened chocolate, coarsely chopped
1/2 cup unsalted butter, softened to room temperature
3/4 cup granulated sugar
3/4 cup unbleached, all-purpose flour
2 large eggs, lightly beaten Mint Buttercream:
2 1/4 cups confectioner's sugar, sifted
4 tablespoons unsalted butter, softened to room temperature
3 ounces cream cheese, softened to room temperature
1/4 teaspoon pure mint extract (spearmint or peppermint) Chocolate Drizzler:
2 ounces bittersweet chocolate, coarsely chopped
1 tablespoon unsalted butter
Directions
Makes 16 - 24 Brownies
Preheat oven to 350°F. Lightly grease a 9" square pan.
For the brownie base: Melt the chocolate in a double boiler set over simmering water. Stir often, over low heat, until chocolate is smooth and melted.
Remove top of double boiler from heat, and carefully wipe bottom (so none of the moisture steams up into the chocolate). Whisk in butter, sugar, flour, and eggs until well blended. Spread into prepared pan. Bake for 25 minutes or until a cake tester comes out with a few moist crumbs attached. Cool pan completely on a wire rack.
For the mint buttercream: In a large bowl with an electric mixer, beat ingredients on low speed to combine. Stop and scrape sides of bowl, then continue to beat at medium speed until mixture is creamy and well combined.
For the chocolate drizzler: Melt ingredients in a small saucepan over medium heat, stirring constantly, until mixture is smooth. Remove saucepan from heat and cool slightly.
Spread mint buttercream over cooled Brownie Base, and then drizzle with Chocolate drizzler. Cool completely until mint buttercream and chocolate drizzler are set. Cut into squares.
Bev's Bite: Leftovers: Store, covered, in the refrigerator.
Filed Under:
Brownies, Vegetarian, RV, Picnics, Gifts, Brown Bagging, Make Ahead, Kid Friendly, New Year's, Valentines Day, Easter, Mother's Day, Father's Day, Freezer Friendly