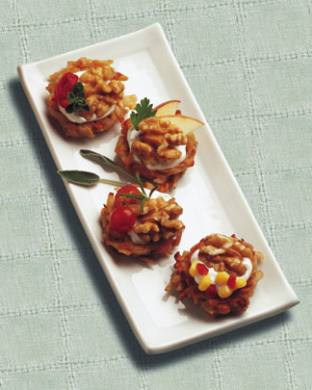 Recipe created by FabFood on

Oct 29, 2008
View more recipes by FabFood.
Prep: –
Cook Time: –
Total: –
Serving: –
Recipe for Mini Potato-Walnut Pancakes. Chopped walnuts add unique flavor and texture to pancake batter. Choose any fresh vegetable as a topping with a dollop of sour cream.
Ingredients
1 1/2 cup frozen hash brown potatoes, thawed
1 large egg
1/4 cup flour
1/4 teaspoon salt
1/3 cup chopped walnuts
non-stick cooking spray
3 tablespoons light sour cream
16 California walnut halves
1/4 cup your choice of various topping ingredients such as halved mini cherry tomatoes, corn kernels, sliced olives, roasted red pepper strips
fresh herb sprigs for garnish (optional)
Directions
In a medium bowl, combine potato, egg, flour, salt and walnuts.  Coat a 10-inch non-stick pan with cooking spray.
Over medium low heat, add heaping tablespoonfuls of the batter, flattening them into 1 1/2" cakes. Do not crowd the pan; make the pancakes in several small batches. Cook 3-4 minutes per side or until golden brown.
To serve, place 1/2 teaspoon sour cream on each pancake and top with a walnut half. Add your choice of desired toppings and herb sprig. Serve warm.
Makes 16 pancakes Serves 8: 1 serving = 2 cakes (with 1/4 cup mini cherry tomatoes) Nutrition information per serving: 113 calories, 3g protein, 10g carbohydrates, 1g dietary fiber, 9g total fat, 2g saturated fat, 28mg cholesterol, 95mg sodium.