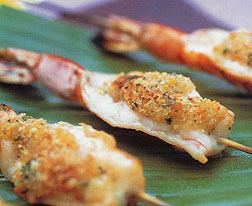 Prep: –
Cook Time: –
Total: –
Serving: –
Recipe for Mimosa Prawns. These butterflied prawns, glazed under the broiler with garlic butter, are an appetizer that has been pleasing crowds forever at Trader Vic's.
Ingredients
Garlic Parsley Butter:
1/2 cup unsalted butter, at room temperature
1 tablespoon freshly squeezed lemon juice
1 clove garlic, minced
1/2 cup fresh breadcrumbs
1 tablespoon minced flat leaf (Italian) parsley
dash of Worcestershire sauce
dash of Tabasco® sauce
1/2 teaspoon kosher salt
1/4 teaspoon freshly ground white pepper
16 extra-large shrimp (about 1 pound) peeled and deveined but with tails left on
vegetable oil for greasing
Directions
Makes 16 Skewers
Soak sixteen 8-inch bamboo skewers in warm water for 20 minutes.
To make the garlic-parsley butter, using a whisk, whip the butter in a bowl until it is light, fluffy, and pale in color. Add the lemon juice, garlic, breadcrumbs, parsley, Worcestershire sauce, Tabasco sauce, salt and pepper. Spread a sheet of plastic wrap, about 12 inches long, on the work surface. Dollop the butter in a line about a third of the way up the plastic wrap. Roll up the butter in the plastic wrap, forming a log about 8 inches long and 1 inch in diameter, and put it the refrigerator or freezer to harden.
To prepare the shrimp, cut through the back of each shrimp with a paring knife to butterfly it; do not cut all the way through, but cut deeply enough so that the shrimp will flatten when it is lightly pressed. Insert a bamboo skewer through the center of the shrimp; the shrimp should be secure on the skewer and played open with an indentation in the center to hold melted butter; it will remain flat when cooked.
Preheat the broiler. Lightly oil a large baking pan. Arrange the shrimp, cut side down, on the baking pan and broil about 4 inches from the heat source. Cook, turning once, until the shrimp are pink and opaque, about 2 to 4 minutes total; when done, the shrimp should be cut side up and cooked through.
Top each shrimp with a 1/4 inch thick slice of the flavored butter and return to the broiler until the butter is melted and the breadcrumbs and parsley are pooled in the center of each shrimp, about 1 minute. To serve, taking care not to disturb the butter, gently arrange the shrimp, cut side up, on a platter. Serve immediately.
Make Ahead Strategy: You can prepare the garlic-parsley butter as directed up to 1 week in advance and store, well wrapped, in the refrigerator, or make it up to 1 month in advance and store it in the freezer.
The shrimp can be butterflied and skewered up to 8 hours ahead and stored, covered with plastic wrap, in the refrigerator, with exposed skewers wrapped in a damp towel to prevent them from drying out.