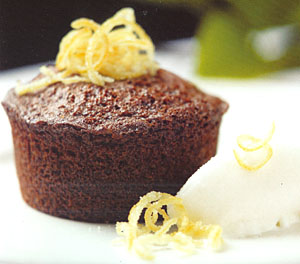 Recipe created by FabFood on

Jan 5, 2008
View more recipes by FabFood.
Prep: –
Cook Time: –
Total: –
Serving: –
Recipe for Meyer Lemon Mini Spice Cakes with Meyer Lemon Sherbet. This exquisite dessert recipe is from Chef Randy Evans of Breannas of Houston restaurant.
Ingredients
Cakes:
3 cups all-purpose flour
3 cups packed dark brown sugar
1 tablespoon cinnamon
1 teaspoon nutmeg
1 tablespoon baking soda
1 3/4 cups vegetable oil
6 eggs
1 vanilla bean, split and scraped, seeds removed
1 teaspoon lemon extract
3 tablespoons Meyer lemon zest
Meyer Lemon Sherbet:
2 cups water
2 cups granulated sugar
2 cups sour cream
3 cups Meyer lemon juice
Candied Citrus Zest:
1/4 cup water
1 cup granulated sugar, divided
1/2 cup fresh julienned Meyer lemon zest
Directions
For the Sherbet: In a saucepan, bring water and sugar to a boil. Cool slightly, then whisk in the sour cream and lemon juice. Refrigerate until chilled. Freeze in an ice cream maker according to manufacturer's instructions.
For the Cakes: In a large bowl, stir by hand the flour, brown sugar, cinnamon, nutmeg, and baking soda. Add oil, eggs, vanilla seeds, lemon extract and zest; slowly stir until batter is smooth. Pour 2 2/3 ounces (#12 scoop) into well greased jumbo (4 inch) muffin cups.& Bake at 375 F for 20 to 25 minutes or until a toothpick comes out clean. Cool for 10 minutes before removing from pans to wire racks.
For the Candied zest: In a small saucepan over high heat, bring water, 1/4 cup sugar and zest to a boil. boil for 7 minutes, stirring often so the zest doesn't burn. Place remaining sugar in a pie pan. Using a fork, place zest into sugar, turn to coat. Place on a paper lined tray to dry.
To Plate: Place mini cakes in the center of each plate; top with a scoop of sherbet and a crown of candied zest.
Filed Under:
Cakes, Frozen, Other, Vegetarian, Valentines Day, Easter, Mother's Day, Father's Day, Fourth of July, Thanksgiving, Christmas