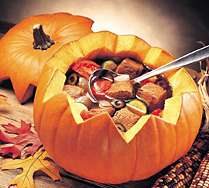 Recipe created by FabFood on

Jul 23, 2007
View more recipes by FabFood.
Prep: –
Cook Time: –
Total: –
Serving: –
Recipe for Mexicali Beef Stew in a Pumpkin Shell. Serving the stew in a hollowed out pumpkin shell makes a spectacular presentation, but you can skip this step and still have a delicious meal.
Ingredients
2-1/2 pounds beef for stew, 1" to 1-1/4" pieces
1 to 2 tablespoons vegetable oil
2 large onions, chopped
4 cloves garlic, crushed
4 cup beef stock
1 cup mild or medium salsa or picante sauce
sauce
2 medium zucchini cut 1/4" slices
4 teaspoons cornstarch, dissolved in 1/4 cup water
2 small tomatoes, each cut into 8 wedges
1 can (2 1/4 ounces) sliced ripe olives, drained
1 pumpkin, 5-6 pounds
Directions
In Dutch oven, heat oil over medium-high heat until hot. Add Beef, onions and garlic-- 1/2 at a time-- and brown beef evenly. Pour off drippings. Add stock and salsa or picante sauce. Return Beef and bring to a boil. Reduce heat, cover tightly and simmer 1-1/2 hours, stirring occasionally.
Add zucchini to pan and continue cooking, covered, 10 minutes or until Beef is tender. Stir in cornstarch mixture, cook and stir 2 minutes or until thickened and bubbly. Stir in tomatoes and olives. Remove from heat, let stand, covered, 5 minutes. Ladle into Pumpkin Shell Tureen.
Pumpkin Shell Tureen: While stew is cooking, prepare Pumpkin Shell Tureen. Cut top off 5-to 6-lb. pumpkin and scrape out fibers and seeds. Approximately 10 minutes before serving, pour boiling water into Pumpkin; cover and let stand. Drain before serving.