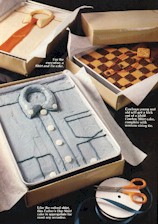 Recipe created by FabFood on

Aug 19, 2008
View more recipes by FabFood.
Prep: –
Cook Time: –
Total: –
Serving: –
Men's Shirts Novelty Cakes. Here's a clever cake that's easy to make. It's perfect for Father's Day, Dad's birthday or any other occasion that needs a masculine touch.
Ingredients
batter for a 2-layer cake
2 cups creamy white frosting
paste food coloring writing
tip and decorating bag
small gumdrops, sliced crosswise, or candy-coated milk chocolate pieces
fruit leather for executive tie
licorice ropes
shortbread cookie for the cowboy shirt
Directions
Tint frosting with desired food coloring. Reserve 1/4 cup of the frosting and tint darker for piping.
Spread lighter frosting on top surface of cake in pan. Make the collar by building up and shaping the frosting. Use writing tip, decorating bag, and reserved dark frosting to outline the collar, shoulder seam, sleeves, pocket and center placket of shirt. Use the patterns below for the following variations:
Oxford: For buttons, place gumdrop slices or candy-coated milk chocolate pieces on center placket, cuffs, and collar. If desired, serve cake in a shirt box lined with tissue paper.
Executive: Prepare Father's day shirt as above, except omit buttons and reserve and tint only 2 tablespoons of frosting a darker color; use to pipe outline on collar and shoulder seam only. Cut a tie shape from desired flavor(s) rolled fruit leather and place on cake.
Cowboy: Prepare Father's day shirt as above, except divide and tint frosting with paste food coloring as follows: tint 3/4 cup with a dark color, 2 tablespoons with a contrasting dark color, and the remaining with a lighter complimentary color. Spread the light-tinted frosting on top of cake. Form collar with about half of the 3/4 cup dark-tinted frosting. Spread remaining dark tinted frosting in 2-inch squares atop cake, making a checkered pattern. Pipe the 2 tablespoons contrasting frosting around collar and on shirt for yoke and center placket. For western tie, place a shortbread cookie at collar front and tuck ends of two 7 inch lengths of shoestring licorice under cookie.
Shop at FabulousFoods.com for Cake Decorating supplies.