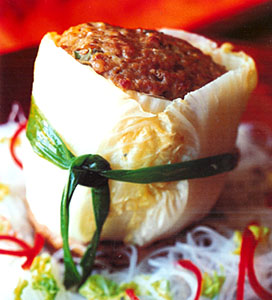 Recipe created by FabFood on

Dec 30, 2007
View more recipes by FabFood.
Prep: –
Cook Time: –
Total: –
Serving: –
Recipe for Martin Yan's Cabbage Meatballs. Steaming is a healthier alternative to pan frying, even for meatballs. Serve in napa cabbage on Portobello mushroom caps with noodles.
Ingredients
1/4 cup dried shrimp
1/2 pound ground pork or chicken
1/3 cup chicken stock
1 tablespoon chopped water chestnuts
1 tablespoon chopped green onion
1 tablespoon coarsely chopped Sichuan preserved vegetables
1 tablespoon cornstarch
1 tablespoon dark soy sauce
1 tablespoon oyster flavored sauce
2 teaspoons sesame oil
2 ounces dried bean thread noodles
2 small napa cabbages
4 medium Portobello mushrooms, stems discarded
blanched chives for garnish
thinly sliced red bell pepper for garnish
Directions
1. Soak dried shrimp in warm water to cover until softened, about 20 minutes, drain. Coarsely chop.
2. To make meatballs, combine shrimp, pork (or chicken), stock, water chestnuts, green onion, preserved vegetables, cornstarch, soy sauce, oyster sauce, and sesame oil in a large bowl, mix well. Cover and refrigerate for about 30 minutes.
3. Soak bean thread noodles in warm water to cover until softened, about 5 minutes; drain. Cut in half.
4. Remove outer leaves of cabbages until their diameters are 2 1/2 to 3 inches. Trim bases to flatten. Cut tops of leaves off to make cases 2 1/2 to 3 inches high. Remove inner leaves to create an area for stuffing. (Save trimmings for another use.) Spoon half of meatball filling into each cabbage case. Tie kitchen twine around cases to secure.
5. Prepare a wok for steaming. Place noodles in a heatproof dish. Place mushrooms, gill sides up, on noodles. Stand stuffed cabbages on dish on steaming rack. Cover and steam until cabbage is tender and filling is barely pink, about 30 minutes. Remove twine and replace with blanched chives before serving. Garnish with bell pepper.
Filed Under:
Hors, Snacks, Meat, Pork, Chicken, Camping, RV, Low Fat, Eating Light, New Year's, Chinese