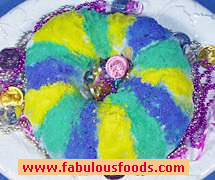 Recipe created by FabFood on

Jul 23, 2007
View more recipes by FabFood.
Prep: –
Cook Time: –
Total: –
Serving: –
Recipe for Mardi Gras King Cake, Traditional and Bread Machine Versions. King Cakes are a huge part of Mardi Gras traditions throughout the South. The cake's origins date back to the Feast of the Epiphany.
Ingredients
Cake:
1/2 cup warm water (100-115 F)
2 tablespoons yeast
1/2 cup sugar, plus 2 teaspoons
3 1/2 - 4 cup flour
1 teaspoon nutmeg
2 teaspoons salt
1 teaspoon lemon zest
1/2 cup warm milk
5 egg yolks
1/2 cup butter
2 teaspoons cinnamon
1 egg beaten with 1 tablespoon milk, for egg wash
Icing:
3 cups confectioner's sugar
1/4 cup lemon juice
3-6 tablespoons water
additional sugar & food coloring for decoration (follow link for tinted sugar directions)
1 tiny 1" baby doll (see notes above)
Directions
Bread Machine Version
Just put the ingredients in the machine, as per manufacturer instructions, set it to the dough setting, and in a few hours you're ready to pick up the instructions from the rolling out point.
Sprinkle yeast and 2 teaspoons sugar over warm water in a small, shallow bowl. Allow to rest for 3-5 minutes, then mix thoroughly. Set bowl in a warm, draft-free place until yeast starts to bubble up and mixture almost doubles in volume, about 10 minutes.
In a large mixing bowl, mix 3 1/2 C flour, 1/2 cup sugar, nutmeg, lemon zest and salt. In mixing bowl of a heavy duty electric mixer or food processor, combine yeast , milk and egg yolks. Gradually add dry ingredients, and softened butter, adding additional flour, as necessary to achieve a medium-soft ball. Knead dough, again adding flour if necessary, until smooth, shiny and elastic, about 10 minutes.
Place dough in a covered, buttered bowl , in a warm, draft-free place until doubled, about 1 1/2 hours.
In the meantime, butter a large baking sheet and set aside.
When dough has risen, remove and punch down. Sprinkle with cinnamon and form into a cylinder, then twist this cylinder into a circle. Pinch the ends together to complete the circle. Once again, cover and let rise until doubled, about 45 minutes.
Pre-heat oven to 375° F. Brush top and sides of cake with egg wash and bake for 25-35 minutes, or until golden brown. Cool on wire rack completely before hiding baby doll inside or icing and decorating.
Icing: Mix sugar, lemon juice and 3 tablespoons of water until mixture is smooth, adding more water as necessary to achieve a smooth, spreadable consistency. Spread icing over cake and immediately sprinkle colored sugar in alternating color rows.
I have made the dough with great success in a Bread Machine FreeKidsCrafts.com - Dress up with Beads and masks for Mardi Gras.
Childfun.com -- Crafts and Activities for Mardi Gras
Mardi Gras at KinderArt.com
Filed Under:
Yeast, Bread Machine Recipes, Breakfast, Ethnic and Regional, Holiday, Baked Goods, Cakes, Vegetarian, Gifts, Make Ahead, Kid Friendly, Mardi Gras, Freezer Friendly