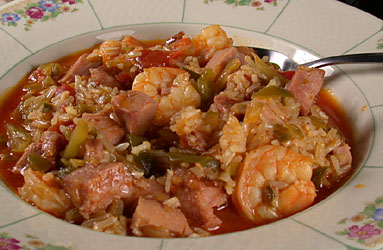 Recipe created by FabFood on

Jul 23, 2007
View more recipes by FabFood.
Prep: –
Cook Time: –
Total: –
Serving: –
Recipe for Marcelle Bienvenu's Jambalaya. Pass the hot sauce and enjoy this Jambalaya by Marcelle Bienvenu, one of the world's foremost authorities on Cajun cooking.
Ingredients
6 tablespoons butter
1/2 cup chopped green onions
1/2 cup chopped yellow onions
1 large green bell pepper, seeded and julienne
1 cup coarsely chopped celery
1 teaspoon minced garlic
1/2 pound medium shrimp, peeled and deveined
1/2 pound cubed boiled ham
1/2 pound smoked sausage, cut crosswise into 1/4 inch-thick slices
16 wholes tomatoes, crushed with the can juices
1 cup chicken stock
salt and cayenne pepper to taste
2 bay leaves
1 cup long-grain rice, uncooked
hot sauce
Directions
1. Heat the butter in a large heavy pot over medium heat.
2. Add the onions, bell peppers, celery and garlic. Cook, stirring, until they are soft and lightly golden, 6 to 8 minutes.
3. Add the shrimp and ham, and sausage if using. Cook for two to three minutes, or until the shrimp turn pink.
4. Stir in the tomatoes.
5. Add the chicken broth.
6. Season to taste with salt and cayenne.
7. Stir in the the bay leaves and the rice.
8. Cover and reduce the heat to medium-low. Cook until the rice is tender and all the liquid is absorbed, about 25 minutes. IMPORTANT TIP: Don't stir once you put the lid on the pot.
9. Remove the bay leaves and serve. Pass the hot sauce!
*Devein Shrimp -- To Devein shrimp, carefully run a knife down the back of the peeled shrimp. Remove the black string you expose. For the record, this is purely for aesthetics, there is no harm to eating shrimp with the vein in.
1. 2. 4. 5. 6.