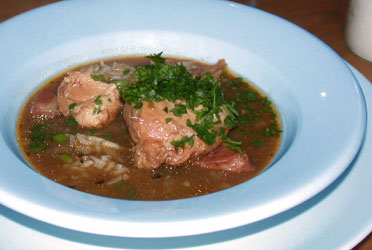 Recipe created by FabFood on

Jul 23, 2007
View more recipes by FabFood.
Prep: –
Cook Time: –
Total: –
Serving: –
Recipe for Marcelle Bienvenu's Chicken and Andouille Gumbo. The queen of Cajun cooking shows us how to make her famous gumbo, step-by-step, with photos.
Ingredients
1 whole chicken, about 4 to 5 pounds, cut into serving pieces salt and cayenne pepper
1 cup vegetable oil
1 cup all-purpose flour
2 1/2 cups chopped yellow onions
1 cup chopped green bell peppers
1/2 cup chopped celery
10 cups chicken stock
2 bay leaves
1/4 teaspoon ground thyme
1 pound andouille sausage , cut crosswise into 1/4-inch slices
2 tablespoons finely chopped fresh parsley leaves
2 tablespoons finely chopped green onions file powder cooked rice for serving
Directions
1. Season the hen generously with salt and cayenne. Heat oil in a large skillet or Dutch oven. Brown chicken on all sides. Remove from skillet and set aside.
2. In the same Dutch oven or skillet or black cast-iron pot, combine the oil and flour over medium heat. Stirring slowly and constantly, make a medium-dark Brown roux, the color of peanut butter (some cooks prefer it the color of chocolate). For more details, click here for Marcelle's photo tutorial on roux making.
3. and 4. Add the onions, bell peppers, and celery and cook, stirring often, until they are wilted and lightly golden, about 10 minutes.
5. Transfer to a Dutch oven or soup pot, if you started in a skillet (as Marcelle did in these photos). Add the chicken broth and stir to mix.
6. Add the chicken pieces, bay leaves and thyme.
7. Cook, uncovered, for about 1 1/2 hours, stirring occasionally and skimming foam off the top from time to time.
8. Add the andouille.
9. Cook for at least another hour, or until the chicken is tender.
10. Before serving, use a spoon to skim off any excess fat or oil.
11. Remove the bay leaves. Add the parsley and green onions. Ladle the gumbo into deep soup bowls over steamed rice. Pass the fil? powder at the table to allow guests to add their own according to taste.
*Andouille -- Andouille, pictured at right, is the popular pork sausage used in Cajun cuisine. If you can't find andouille in your area, you can substitute other types of smoked sausages.
3. 4. 5. 6. 7. 8. 9. 10.