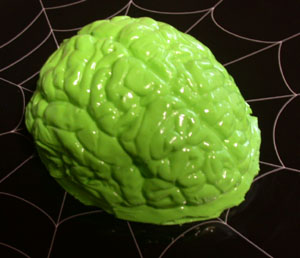 Recipe created by FabFood on

Jul 12, 2008
View more recipes by FabFood.
Prep: –
Cook Time: –
Total: –
Serving: –
Lime Martian Brain Halloween Gelatin Mold Recipe This day-glo green brain is actually made from lime panna cotta. It's a perfect ghoulish dessert for your Halloween party buffet.
Ingredients
1 cup whole milk
1 cup heavy whipping cream
1/3 cup lime juice
1/2 cup sugar
1 cup sour cream
2 tablespoons unflavored gelatin (2 packets) green and yellow food colors
fresh berries and/or whipped cream for serving
Directions
NOTE:This recipe makes enough to fill 2 Mini-Brain Gelatin molds or 1 Large Brain Gelatin mold OR 1 Mini Brain and the Alien Guts for our Alien Autopsy Gelatin Mold.
Lightly coat the molds with a thin coat of vegetable oil or cooking spray.
Pour lime juice in a small bowl and sprinkle gelatin over. Let stand for about 10 minutes so gelatin can soften.
Mix milk and cream in a heavy, medium saucepan. Bring to a simmer over low heat. Stir in sugar and gelatin mixture and cook until both completely dissolve, about 2 minutes. Remove from heat, pour into a bowl, and whisk in the sour cream. Use a few drops of green and yellow food color, or a generous dollop of green and yellow paste color to achieve that Day-Glo look. Pour the mixture into the prepared mold(s) and chill for at least 6 hours or overnight. Unmold as you would any gelatin mold. Serve with fresh berries and whipped cream.
Suggestion:Use 1/2 this recipe in our Roswell Alien Autopsy Gelatin Mold!
BUY THE BRAIN and Other Creepy Halloween Molds! Buy the brain mold on this page as well as other creepy Molds and get everything you need to create professional looking carved pumpkins plus ultra cool Halloween decorations, party accessories and much more. Click here to shop!