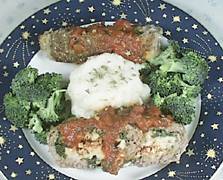 Prep: –
Cook Time: –
Total: –
Serving: –
Recipe for Lasagna Meatloaf. This is as about as spectacular as meatloaf gets. Stuffed with a cheesy spinach filling and rolled, it's as impressive as it is delicious.
Ingredients
Sauce:
1 tablespoon olive oil
1 onion, chopped
2 teaspoons dried basil
1 can (28 ounces) chopped tomatoes, undrained
5 1/2 ounce can tomato paste
1/2 teaspoon crushed red pepper (optional for those who like a little heat)
Filling:
6 cups fresh spinach
1 egg
1 cup ricotta cheese
1/2 cup mozzarella cheese, shredded
3 tablespoons Parmesan cheese, grated
3 tablespoons fresh parsley, chopped
2 tablespoons milk
1/8 teaspoon nutmeg
1/4 teaspoon salt
1/4 teaspoon pepper
Meat:
1 1/2 pounds lean ground beef
1 egg, beaten
1 onion, chopped
3 cloves garlic, minced
1/2 cup bread crumbs
3 tablespoons Parmesan cheese
1/2 teaspoon salt
1/2 teaspoon pepper
Directions
Sauce: Cook onion and garlic over medium heat until starting to soften, about 3 minutes. Add tomatoes and 1/2 C tomato paste and bring to a boil, stirring frequently. Reduce heat and simmer until thickened, about 20 minutes, continuing to stir often. Season to taste with salt and pepper and, if desired, crushed red pepper. Set aside.
Filling: Wash spinach. Shake off excess water but do not dry. Place spinach in a saucepan with no additional water, cover and cook over medium-high heat until just wilted, about 2-3 minutes. Set aside.
Mix together egg, cheeses, parsley, nutmeg and salt and pepper. Set aside.
Meat: Mix together all ingredients except meat. Combine with the meat and mix well. Cut two large sheets of waxed or parchment paper. Roll meat mixture into a 18" X 8" rectangle and remove top layer of paper.
Leaving a 1" border on all sides, spread a layer of spinach over meat, followed by cheese mixture and 1 cup of sauce.
Roll meat from the short end, just like you would when making a jellyroll cake, lifting the paper out of the way as you go. Don't worry if some of the filling oozes out, just tuck it back in.Â
Carefully transfer roll, seam side up, to a 9" X 5" loaf pan. Bake for about 1 hour and 10 minutes or until temperature on a meat thermometer reaches 145° F. Let stand for 20 minutes before removing from pan. Drain off excess fat, remove from pan. Serve in slices, covered in the remaining tomato sauce.