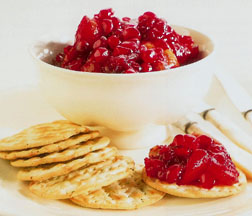 Recipe created by FabFood on

Jul 23, 2007
View more recipes by FabFood.
Prep: –
Cook Time: –
Total: –
Serving: –
Recipe for Kumquat, Cranberry and Pomegranate Relish. Kumquats add the exotic, cranberries the familiar, and pomegranates the surprise ending!
Recipe from "Pomegranates" by Ann(e) Kleinberg, Ten Speed Press, 2004. More info and recipes can be found at annekleinberg.com.
Ingredients
3 cups kumquats
1/2 cup water
1/2 cup pomegranate juice
1 1/4 cups sugar
1 tablespoon peeled grated ginger
1/2 teaspoon salt
1 pound fresh or frozen cranberries
1/2 cup golden raisins
1/4 cup pomegranate seeds
Directions
Makes 2 Cups
Slice or quarter the kumquats and remove the pits. Combine the kumquats, water, pomegranate juice, sugar, ginger, and salt in a saucepan over medium heat and bring to a boil. Decrease the heat to low and simmer for 5 minutes. Add the cranberries, increase the heat, and bring to a boil again. Decrease the heat and continue simmering. Once the cranberries burst, scoop out 3/4 of the mixture and set aside.
Continue simmering the remaining mixture until it is reduced by half. Add the raisins and the reserved mixture to the reduction and continue cooking a bit longer. The entire cooking process should take 30 to 60 minutes - the longer it cooks, the further it reduces and the thicker it gets.
Remove from the heat, let cool, and then fold in the pomegranate seeds. Cover and refrigerate to chill. The relish will keep for 1 month in the refrigerator.
Filed Under:
Cranberry, Relishes and Chutneys, Vegetarian, RV, Make Ahead, Kid Friendly, Low Fat, New Year's, Thanksgiving, Christmas, Vegan