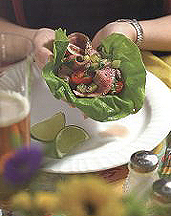 Recipe created by FabFood on

Jul 23, 2007
View more recipes by FabFood.
Prep: –
Cook Time: –
Total: –
Serving: –
Recipe for Korean-Style Steak & Lettuce Wraps. Serve the various components of the dish separately and let your family or guests build their own wraps to taste.
Ingredients
1 pound flank steak
1/4 teaspoon salt
1/4 teaspoon freshly ground pepper
1 cup diced peeled cucumber
6 cherry tomatoes, halved
1/4 cup thinly sliced shallot
1 tablespoon finely chopped fresh mint
1 tablespoon finely chopped fresh basil
1 tablespoon finely chopped fresh cilantro
1 tablespoon brown sugar
2 tablespoons reduced-sodium soy sauce
2 tablespoons lime juice
1/2 teaspoon crushed red pepper
1 head Bibb lettuce, leaves separated
Directions
1. Preheat grill to medium-high.
2. Sprinkle steak with salt and pepper. Oil the grill rack. Grill the steak for 6 to 8 minutes per side for medium. Transfer to a cutting board and let rest for 5 minutes. Cut across the grain into thin slices.
3. Combine the sliced steak, cucumber, tomatoes, shallot, mint, basil and cilantro in a large bowl. Mix sugar, soy sauce, lime juice and crushed red pepper in a small bowl. Drizzle over the steak mixture; toss well to coat. To serve, spoon a portion of the steak mixture into a lettuce leaf and roll into a "wrap."
Per Serving: 199 calories; 7 g fat (3 g sat, 3 g mono); 45 mg cholesterol; 9 g carbohydrate; 24 g protein; 1 g fiber; 465 mg sodium.
Nutrition Bonus: Vitamin A (35% daily value), Vitamin C (20% dv), Iron (15% dv).
Filed Under:
Starters, Meat, Beef, Camping, RV, Quick and Easy, Kid Friendly, Low Carb, Low Fat, Eating Light, New Year's, Valentines Day, Finger Foods, Diabetic, Vegetable, Korean