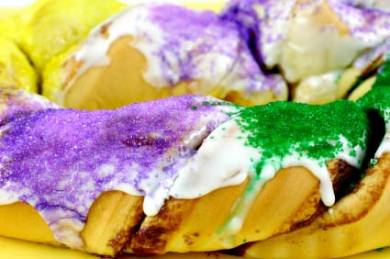 Prep: –
Cook Time: –
Total: –
Serving: –
Mardi Gras King Cake recipe. A King Cake is a traditional dessert served around Mardi Gras and a must-have for any Mardi Gras party. King Cake is essentially a ring of twisted dough, similar to brioche, topped with icing or sugar, and usually decorated in
Ingredients
1/2 cup nonfat milk
1/2 cup granulated sugar
1 1/2 teaspoon kosher salt
2 teaspoon vanilla extract
1/2 cup butter
1/3 cup warm water
2 enveloped active dry yeast
3 large eggs, lightly beaten
1 teaspoon ground cinnamon
1/2 teaspoon nutmeg
4 1/2 cups sifted bread flour, divided
1 small baby doll
Vanilla Glaze
2 cups confectioners' sugar
1 teaspoon vanilla extract
2 tablespoons water
Directions
Combine the milk, sugar, salt, vanilla extract, and butter in a saucepan; bring to a boil and scald; remove from heat and allow to cool to room temperature.
Place the water into a large bowl and sprinkle the yeast on top; let sit for 5 minutes.
Pour the milk mixture into the bowl and stir to combine; add the eggs, cinnamon, nutmeg, and 2 cups of flour. Using an electric mixer, beat until well combined; add the rest of the flour a little at a time, beating well after each addition.
Turn the dough out onto a well-floured board and knead with your hands until the dough becomes smooth and elastic, about 5 minutes; transfer the dough to a greased bowl and cover with a clean kitchen towel; place in a warm place and allow to rise for 2 hours.
Punch the dough down and knead again for 5 minutes.
Roll the dough into a long coil and place into a bundt pan; hide the baby doll in the dough; cover the pan with a clean kitchen towel and allow to rise again, this time for 1 hour.
When the hour is nearly up, preheat the oven to 375 degrees F. Place the pan into the oven (remove the towel before it goes in the oven!) and bake for 20 to 25 minutes, until golden brown; remove from oven and allow to cool completely before glazing and decorating.
Combine the confectioners' sugar, vanilla extract, and water in a bowl, stirring well to combine.
To decorate:
Drizzle the cooled King Cake with vanilla glaze; sprinkle liberally with alternating stripes of gold edible glitter, purple edible glitter, and green edible glitter.