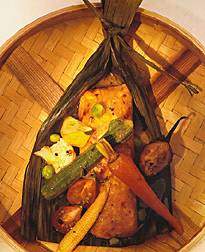 Recipe created by FabFood on

Aug 17, 2008
View more recipes by FabFood.
Prep: –
Cook Time: –
Total: –
Serving: –
Recipe for John Sedlar's Sweet Corn Tamale Dough. Chef Sedlar uses this dough to make his healthy Tamale with Vegetables and Carrot Sauce - recipe included.
Ingredients
1 tablespoon corn oil
3 cups fresh corn kernels
1/2 red bell pepper, seeded and diced
1/2 green bell pepper, seeded and diced
1 tablespoon semolina flour
1 teaspoon salt
1/2 teaspoon freshly ground white pepper
1/4 cup heavy cream
1 large egg
Directions
Heat the corn oil in a saucepan. Add the corn and bell peppers and sauté over medium heat for 10-15 minutes, stirring frequently, until tender. Remove from the heat and let cool to room temperature. Transfer three-quarters of the mixture to a blender and blend for 1 minute -- do not over mix. Add the remaining mixture and other ingredients and pulse until thoroughly combined.
Use this dough to make Chef John Sedlar's "Self" Tamale with Vegetable and Carrot Sauce.
Filed Under:
Tamales, Vegetable Dishes, Vegetarian, Gifts, Make Ahead, Low Fat, Eating Light, New Year's, Cinco de Mayo, Christmas, Mexican, Other Latin, Vegan, Restaurant Recipes