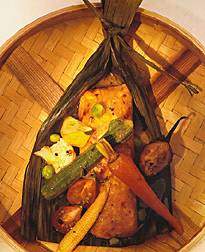 Recipe created by FabFood on

Jul 23, 2007
View more recipes by FabFood.
Prep: –
Cook Time: –
Total: –
Serving: –
Recipe for John Sedlar's Self Tamale with Vegetables and Carrot Sauce. This tamale makes the most of delicately flavored summer produce and is low in fat, salt, and yet explodes with flavors.
Ingredients
1 recipe Sweet Corn Tamale Mixture
4 cups fresh carrot juice
1 clove garlic, minced
1 tablespoon fresh minced ginger
4 tablespoons chilled, unsalted butter, diced
salt and freshly ground black pepper
1 large banana leaf, cut into 6 squares of 6x6 inches
olive oil for brushing
For the Vegetables:
6 small cauliflower florets
6 baby carrots
6 whole baby eggplants, halved lengthwise
6 baby zucchini
2 yellow pattypan squash, each cut into 3 wedges
2 tablespoons fresh peas
6 teardrop tomatoes, halved
salt and freshly ground black pepper
1 teaspoon olive oil
Directions
To prepare the sauce, place the carrot juice, garlic and ginger in a small, non-reactive saucepan. Bring to a boil, reduce the heat to a simmer, and reduce the juice by 1/2 -- about 20 minutes. Remove the pan from the heat and whisk in the butter, one piece at a time. Season with salt and pepper to taste and keep warm.
To prepare the tamales, lay out each square of banana leaf on a flat work surface and brush lightly with olive oil. Divide the sweet corn tamale mixture evenly among the leaves and mold into a rectangular shape. Fold 2 of the sides over the other 2 sides to form a tight envelope package. Repeat for the remaining tamales. Fill the bottom of a steamer or saucepan fitted with a strainer or vegetable basket with 2-3 inches of water. Bring the water to boil and place tamales in the steamer. Cover tightly with a lid or foil (it is important that little or no steam escapes during cooking). steam tamales for about 15 minutes over lightly boiling water until firm, adding more boiling water as necessary.
While the tamales are steaming, bring a large saucepan of lightly salted water to a boil. Add the cauliflower and carrots and blanch for 7-8 minutes. Remove with a slotted spoon and drain. Add the eggplants, zucchini, squash, peas and tomatoes and blanch for 3 minutes. Remove immediately and drain. Just before you are ready to serve, season the vegetables with salt and pepper to taste and heat the olive oil in a sauté pan. Sauté the blanched vegetables over medium heat for about 2 minutes, until warm. Transfer tamales to large, shallow pasta bowls. Unwrap one side of each tamale to expose the filling and sprinkle the sautéed vegetables over and around the tamale, on top of the banana leaf. Generously spoon the sauce over the tamale and vegetables.
Filed Under:
Tamales, Vegetable Dishes, Vegetarian, Make Ahead, Low Fat, Eating Light, New Year's, Cinco de Mayo, Christmas, Mexican, Other Latin, Vegan, Restaurant Recipes