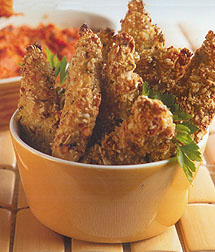 Recipe created by FabFood on

Jul 23, 2007
View more recipes by FabFood.
Prep: –
Cook Time: –
Total: –
Serving: –
Recipe for Herbed Toaster Oven-Fried Chicken. Eat this chicken hot right out of the oven, or add it to a cold picnic or a boxed lunch.
Ingredients
1/2 cup buttermilk
2 cloves garlic, finely minced
1 1/2 teaspoons salt
1 tablespoon oil
1/2 pound skinless and boneless chicken breasts or chicken breasts or chicken tenders
1 cup rolled oats
1/2 teaspoon red pepper flakes
1/2 cup grated Parmesan cheese
1/4 cup fresh basil leaves or rosemary needles
olive oil spray
Directions
In a shallow dish, mix together the buttermilk, garlic, 1/2 teaspoon of the salt, and the oil. Place the chicken pieces in the buttermilk mixture overnight in the refrigerator.
Preheat the toaster oven to 425° F.
In a food processor, mix the oats, red pepper flakes, the remaining 1 teaspoon of salt, Parmesan, and basil. Pulse until the oats are partially powdered. Alternatively, mix the ingredients together in a bowl with a wooden spoon. Place the oat mixture on a plate. Shake any excess buttermilk off the chicken and dredge to coat each piece thoroughly.
For easy clean up, cover the toaster oven baking tray with aluminum foil and lightly spray it with oil. (Check your manufacturer's instructions, however, for any cautions against the use of aluminum foil in your toaster oven.)
Place the chicken pieces on the tray so that they are not touching one another. Spray the chicken pieces lightly with oil and bake for about 10 to 15 minutes, depending on the thickness of the meat, until the crust is golden brown and crispy. Remove the chicken from the toaster oven and serve hot or refrigerate and serve cold over a salad.