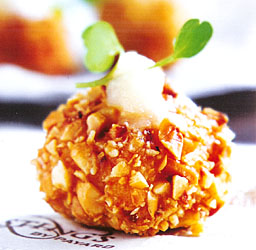 Recipe created by FabFood on

Jul 23, 2007
View more recipes by FabFood.
Prep: –
Cook Time: –
Total: –
Serving: –
Recipe for Hazelnut Crusted Scallops with Pear Puree. Give your guests a bigger, more substantial bite by using large sea scallops.
Ingredients
1 cup sugar
1 Bartlett pear, peeled, cored, and diced
fine sea salt
1 quart canola oil for frying
1/2 lb sea scallops, cut in half - about 10 large
freshly ground white pepper
1/2 cup all-purpose flour
2 large eggs, beaten
1 cup hazelnuts
Directions
1. Place 2 cups of water and the sugar in a medium pot over medium-high heat, and bring to a boil. Add the diced pear, reduce the heat to medium-low,and simmer until the fruit is very soft, about 12 minutes. Remove the pot from the heat and drain the liquid into a bowl. Reserve the pear cubes and the liquid separately, allowing them to cool to room temperature.
2. When they are cool, place the pear cubes in a blender. Add 1 to 2 tablespoons of the poaching liquid and a pinch of salt, and purée until smooth. You can make the puree up to 1 day ahead and store it, covered, in the refrigerator.
3. Fill a medium saucepan with the canola oil. Clip a deep frying thermometer to the side of the pan, and heat the oil to 350°F.
4. Season the scallops with salt and pepper. Place the flour, eggs, and hazelnuts in separate shallow containers. Sip the scallops into the flour, then into the eggs, and finally into the hazelnuts, coating them well.
5. Fry the scallops, a few at a time, until golden brown, about 2 minutes. Do not crowd the pan, and maintain the oil at a steady 350°F. As they are done, remove the scallops to a plate lined with paper towels to drain. Sprinkle lightly with salt.
6. Place the pear puree in a plastic pastry bag or resealable plastic bag, and cut a 1/8 inch opening at the top or corner. Pipe a small amount of pear purée on top of each scallop. Arrange on a platter, and serve warm.