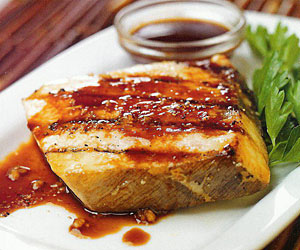 Recipe created by FabFood on

Apr 21, 2009
View more recipes by FabFood.
Prep: –
Cook Time: –
Total: –
Serving: –
Recipe for Grilled Shark To Die For. A quick and easy recipe for grilled fish that the whole family will love.
Ingredients
1/2 cup soy sauce
1/2 cup fresh orange juice
1/4 cup ketchup
1/4 cup freshly chopped parsley
2 tablespoons fresh lemon juice
1 teaspoon freshly ground black pepper
2 large cloves garlic, pressed
six shark steaks, 6 ounces each
Directions
Combine soy sauce, orange juice, ketchup, chopped parsley, lemon juice, pepper, and garlic.  Set aside 1/4 cup.  Add the fish, cover, and marinate int he refrigerator for 2 hours.  Remove the fish from its marinade.  Grill the fish over high heat on a preheated grill, basting frequently with the reserved 1/4 cup marinade, for 6 minutes on each side or until the fish flakes easily when tested with a fork.
Variations:
Anticucho-Style Grilled Shark -- Replace the marinade with a blend of 1/2 cup soy sauce, 2 pickled jalapeños, 2 tablespoons each of pickled jalapeño juice, fresh cilantro and parsley leaves, 1/4 cup fresh lime juice, 1/2 cup canola oil, and 1 teaspoon fresh cracked pepper.  Proceed with the base recipe.  Garnish the grilled steaks with lime wedges, avocado and pico de gallo.
Alternate marinated Grilled Shark -- Replace the marinade with a mix of 1/3 cup fresh lime juice, 1/4 cup teriyaki sauce, 2 tablespoons olive oil, 1 tablespoon light brown sugar, 1/2 teaspoon ground black pepper, and 1/2 teaspoon paprika.
Asian grilled Shark Steak -- Replace the marinade with a mix of 2 tablespoons soy sauce, 3 tablespoons fresh lemon juice, 2 tablespoons olive oil, 1 tablespoon sesame oil, 1 tablespoon yellow mustard, and 1 teaspoon sugar.
Herbed Shark Steaks -- Omit the marinade.  Rub Shark all over with 6pressed garlic cloves.  Combine 2 tablespoons lemon juice, 1 tablespoon fresh oregano leaves, 1 tablespoon chopped fresh parsley, 1 teaspoon fresh dill weed, and salt and pepper to taste.  marinate garlic-rubbed Shark for 2 hours and drain.  Grill as in the base recipe.
Filed Under:
Fish, Camping, RV, Quick and Easy, Make Ahead, Kid Friendly, Low Carb, Low Fat, Eating Light, Father's Day, Fourth of July