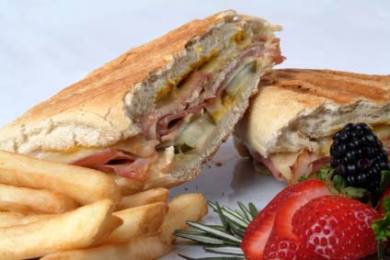 Recipe created by FabFood on

Jul 23, 2007
View more recipes by FabFood.
Prep: –
Cook Time: –
Total: –
Serving: –
Recipe for Grilled Primo Cubano Sandwiches. Sandwiches where the pork, cheese, and pickle combo make superb fare for a casual party.
Ingredients
Mojo:
1 can (6 ounces) frozen orange juice concentrate, thawed
juice of 3 key limes or 2 regular limes (3 to 4 tablespoons)
1/4 cup olive oil
3 plump garlic cloves, chopped
1 tablespoon minced fresh oregano or marjoram
1 teaspoon coarse salt, or 1 1/2 teaspoons store bought adobo seasoning
several splashes of Caribbean style habenero hot sauce, optional
1 to 1 1/2 pounds pork tenderloin
2 tablespoons prepared yellow mustard
6 French rolls or Cuban rolls or bread
dill pickle slices, enough to cover each sandwich
12 thin ham slices
12 thin slices Swiss cheese
Directions
Whisk together the mojo ingredients. Set aside 1/4 cup plus 2 tablespoons of the mojo. Place the tenderloin in a zippered plastic bag and pour the rest of the mojo over it. Toss back and forth to cover the pork and set aside at room temperature for 30 minutes (or refrigerate for up to several hours, and then let sit at room temperature for 20 to 30 minutes before proceeding).
Fire up the grill for a two-level fire capable of cooking first on high heat (1 to 2 seconds with the hand test) and then on medium heat (4 to 5 seconds with the hand test).
Arrange the tenderloin on the grill over high heat with the thin tail angled away from the hottest part of the fire. Grill the tenderloin over high heat for 5 minutes, rolling it on all sides.
Move the tenderloin over to medium heat and estimate the rest of the cooking time by the thickness of the meat. Skinny tenderloins (about 1 1/2 inches in diameter) require an additional 8 to 10 minutes over medium heat. Plump tenderloins (up to 2 1/2 inches in diameter) may need twice that long. Continue to roll the meat occasionally to cook evenly. The pork is done when its internal temperature reaches 155° F to 160° F. Let it rest, covered with foil, for 5 minutes, then slice thinly.
Mix reserved mojo with mustard. If the rolls are very thick and bready, tear out some of the center bread and discard (or reserve for another use). Slather both sides of a bun with mojo mustard. Layer pickles generously across the bottom, add 2 ham slices, then a munificent layer of pork tenderloin and 2 cheese slices. Cap with the top half of the roll, and repeat for remaining sandwiches. Toast each sandwich at the edge of the grill or - even better - in a sandwich press or waffle iron until lightly brown and crisp. Serve immediately.