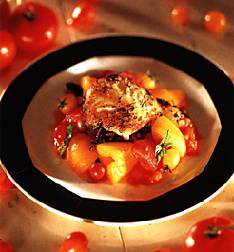 Prep: –
Cook Time: –
Total: –
Serving: –
Recipe for Grilled Halibut with Herbs and Garlic Roasted New Potatoes and Tomato Orange Relish from Chef James Boyce.
Ingredients
The Fish:
4 fillets of halibut or seabass, about 6 ounces each
fresh orange segments for garnish
fresh basil for garnish
The Potatoes:
6-8 small red potatoes (about 1 1/2 pounds)
1 head garlic, papery outer skin removed
1 sprig fresh rosemary
1 sprig fresh thyme
1/3 cup olive oil
salt and freshly ground black pepper
The Relish:
4 medium vine ripe tomatoes (either red or yellow)
1/4 cup sherry vinegar
2 tablespoons fresh squeeze orange juice
Directions
Making the Potatoes
Pre-heat an outdoor grill to medium high heat. Scrub Potatoes and pat dry. cut into quarters and place in a medium bowl. Cut garlic into 4 pieces, add to bowl along with sprigs of rosemary and thyme. Toss with 2 tablespoons of olive oil and season with salt and pepper. Empty contents of bowl onto a large sheet of aluminum foil, then close the sides up in a pouch. Set pouch on hot grill and roast until Potatoes are tender (about 15-20 minutes). Move package to outer edge of grill to keep warm.
Making the Relish Bring a small pan filled half way with water to a boil. Core tomatoes and cut a small X on the bottom of each tomato. Gently add tomatoes to boiling water and simmer until tomato skins start to split (about 30 seconds). Transfer tomatoes to a bowl of ice water and let them cool. Drain tomatoes and cut in half, scooping out and discarding seeds. Dice tomatoes and combine with remaining olive oil, vinegar and orange juice. Season tomatoes with salt and pepper to taste, mix well and set aside.
Finishing the Fish
Season fish with salt and pepper and cook over grill until each fillet is just opaque through (about 5-7 minutes per side depending on thickness). Arrange roasted Potatoes in a small pile on each plate and place fish on top. Spoon tomato relish around the fillet and garnish with orange segments and a sprig of fresh basil.