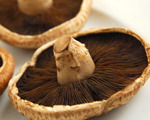 Prep: –
Cook Time: –
Total: –
Serving: –
Recipe for Grilled Eggplant and Portobello Mushrooms with Tomato and Sweet Pepper Sauce
Ingredients
2 large eggplants
3 tablespoons olive oil, divided
5 portabello mushrooms, trimmed and brushed clean
2 tablespoons chopped shallots
2 tablespoons chopped garlic
1/2 white onion, sliced
2 tomato, diced
1/2 red sweet bell pepper, sliced
1/2 yellow sweet bell pepper, sliced
1/2 cup tomato juice
3 tablespoons chopped fresh basil
1 tablespoon butter (optional)
4 slices mozzarella cheese
salt and pepper to taste
Directions
Slice each eggplant lengthwise into 4 slices, 1/2" thick. Brush slices with olive oil and sprinkle with salt and pepper. Charbroil eggplant slices quickly over high heat until they are golden and have grill marks, about 2 1/2 minutes on each side. (You can, alternately, sauté the eggplant slices in olive oil in a skillet). Allow eggplant slices to cool after cooking.
Brush mushrooms with olive oil and sprinkle with salt and pepper. Grill or sauté mushrooms in the same manner as eggplant.
Heat the remaining olive oil in a saucepan and quickly cook the shallots and garlic over high heat for about 1 minute, taking care not to let the garlic brown. Add the onion, tomatoes and peppers, reduce heat to medium ad cook for about 8 minutes. Stir in the tomato juice. reduce heat and continue cooking over low heat until vegetables are soft, about 10 minutes. Remove from heat and stir in the basil and butter (if desired). Allow vegetable sauce to cool before assembling dish (spread sauce on a baking sheet for faster cooling).
To assemble Preheat oven to 375° F. Slice the cooked mushrooms at an angle. Place 4 eggplant slices on a baking sheet that has been buttered or oiled. Top each eggplant slice with a generous tablespoon of the vegetable sauce, then top with some portobello slices, a slice of mozzarella cheese, and another eggplant slice. Bake for about 8 minutes. Serve with a small amount of sauce on each plate.
Filed Under:
Vegetable Dishes, Eggplant, Mushroom, Peppers, Tomatoes, Vegetarian, Low Carb, Low Fat, Eating Light, Vegetable, Restaurant Recipes