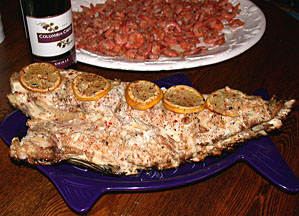 Recipe created by FabFood on

Jul 23, 2007
View more recipes by FabFood.
Prep: –
Cook Time: –
Total: –
Serving: –
Recipe to cook Greg Garvey's Grilled Redfish. Everyone who tries this grilled redfish instantly declares it some of the best fish they've ever had.
Ingredients
3 to 5 pounds redfish filet (half a fish), leave scales on the back
about 2 tablespoons minced garlic
about 2 tablespoons Creole seasoning
about 2 tablespoons olive oil
1/3 cup melted butter
about 3/4 cup vinegar and oil based Italian salad dressing
1 sliced lemon
Directions
The Number Served Depends on the Size of the Fish
Liberally spread minced garlic over the top of the fish. Sprinkle generously with Creole seasoning. Wrap and refrigerate for about an hour.
Heat a charcoal or propane grill to medium heat -- about 350°F.
Put fish on grill, scales side down. Baste with melted butter and arrange lemon slices over the top of the fish as shown in photo below. Cover grill.
TIP: According to Greg, if the grill heat is too high, the fish scales will start to curl -- if that starts to happen with your fish, open the grill lid until the temperature lowers.
Baste with butter periodically while the fish is cooking to keep it moist. Overall cooking time will depend on the size of your fish, but it is done when the flesh is opaque and flakes easily with a fork. The average size redfish (about a 15 pound fish), which will result in two filets of about 3 1/2 to 4 pounds each, will take about 45 minutes overall cooking time.
About 15 minutes before the fish is done, brush heavily with some of the Italian dressing. brush on more dressing at the completion of cooking. Serve.
The photo is me with my redfish catch during a morning of fishing on Matagorda Bay on the Texas Gulf Coast. This area is as yet (2006) undiscovered by the masses and is a nature lover's paradise. Beautiful beaches along with great fishing, birding, hunting, hiking, canoeing and kayaking, and more await you. Best of all, you can get it all at bargain prices. Click below to read more about traveling to Matagorda County, Texas.