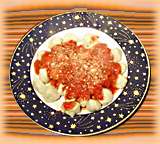 Recipe created by FabFood on

Jul 23, 2007
View more recipes by FabFood.
Prep: –
Cook Time: –
Total: –
Serving: –
Recipe for Gnocchi With Garlic and Basil. Serve these Italian potato dumplings with your favorite pasta sauce.
Ingredients
3 cups cooked potatoes (cut potatoes into small cubes and boil until tender)
3 tablespoons basil
2 tablespoons Italian parsley
5 cloves garlic, minced or pressed
1 cup ricotta cheese (cottage cheese can be substituted)
1 cup Parmesan cheese
4 egg whites
3 cups flour
Directions
Makes about 120 dumplings - serves 6-8
Using a food processor (you may have to work in batches or cut the recipe in half unless you have an extremely large one) or an electric mixer, beat all ingredients together in order listed to form a sticky dough. Place dough in an oiled bowl, cover and refrigerate for at least 2 hours (you can make the dough a day ahead of time).
After dough has chilled, divide it into 8 pieces. On a well floured surface, roll each piece into a log about 1" thick. Cut the log into 1" pieces. Using your hands, roll each piece into a small ball. Store the balls in a single layer on a baking sheet (use waxed paper between layers and stack, if necessary).
Bring a large pot of water (or 2 pots if you want to work more quickly) to a rapid boil. Working in batches, drop gnocci into the water. Be careful, you only want to add enough so that they can't touch or stick together while cooking. Cook for 10-12 minutes (gnocci will start to float as they cook). Remove cooked gnocci with a slotted spoon or strainer. Store in an oiled bowl until all are cooked. Serve with the sauce of your choice.