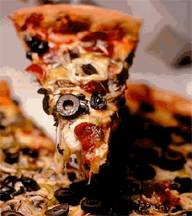 Recipe created by FabFood on

Jul 23, 2007
View more recipes by FabFood.
Prep: –
Cook Time: –
Total: –
Serving: –
Recipe to cook Gluten Free Pizza. Now even those with wheat and gluten sensitivities and allergies can enjoy great tasting pizza.
Ingredients
Crust:
1 tablespoon dry yeast
2/3 cup brown rice flour or garbanzo/fava bean flour*
1/2 cup + 2 tablespoons tapioca flour
2 teaspoons xanthan gum*
1/2 teaspoon salt
1 teaspoon unflavored gelatin powder
1 teaspoon Italian seasoning
2/3 cup warm milk or non-dairy liquid
1/2 teaspoon sugar or honey
1 teaspoon olive oil
1 teaspoon cider vinegar
extra rice flour for sprinkling
Sauce:
1 can tomato sauce
1/2 teaspoon dried oregano leaves
1/2 teaspoon dried basil leaves
1/2 teaspoon crushed dried rosemary
1/2 teaspoon fennel seeds
1/4 teaspoon garlic powder
2 teaspoons sugar
1/2 teaspoon salt
Toppings of your choice
*Available at health food stores by Authentic Foods, Bobs Red Mill, and Ener-G Foods.
Directions
Sauce:
Combine all ingredients in small saucepan and bring to boil over medium heat. Reduce heat to low and simmer for 15 minutes, while Pizza Crust is being assembled. Makes about 1 cup.
Crust: Preheat oven to 425°. In medium mixer bowl using regular Beaters (not dough hooks), blend the yeast, flours, xanthan gum, salt, gelatin powder, and Italian seasoning on low speed. Add warm milk, sugar, oil, and vinegar. Beat on high speed for 3 minutes. (If the mixer bounces around the bowl, the dough is too stiff. Add water if necessary, one tablespoon at a time, until dough does not resist Beaters.) The dough will resemble soft bread dough. (You may also mix in a bread machine on the dough setting.)
Put mixture on 12-inch pizza pan or baking sheet (for thin, crispy crust), or 11 x 7-inch pan (for deep-dish version) that has been coated with cooking spray. Liberally sprinkle rice flour onto dough, then press dough into pan, continuing to sprinkle dough with flour to prevent sticking to your hands. Make edges thicker to hold the toppings.
Bake pizza crust for 10 minutes. Remove from oven. Top Pizza Crust with sauce and your preferred toppings. Bake for another 20-25 minutes or until top is nicely browned.
Per Serving (1/6 of recipe crust and sauce only): Calories, 153; Fat 1.5g, Protein 4g; Carb. 33g; Chol.1 mg; Sodium 635 mg; Fiber 3g