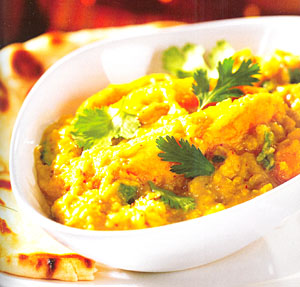 Recipe created by FabFood on

Dec 26, 2007
View more recipes by FabFood.
Prep: –
Cook Time: –
Total: –
Serving: –
Recipe for Gayatri's Green Mango Dal. On a trip to Hyderabad, I met a woman who not only a fabulous cook, but also more than happy to share her knowledge and recipes, like this one.
Ingredients
1 cup yellow lentils (toor dal)
1/2 teaspoon turmeric
2 tablespoons oil, divided
1/2 teaspoon dark mustard seeds
1/2 teaspoon cumin seeds
1 tablespoon chopped green chiles, preferably serranos
1 teaspoon salt
1/2 teaspoon coriander powder
1/2 teaspoon cayenne pepper
1 cup cilantro, chopped
3/4 cup green mango, or 1 green mango, peeled and cut into 3 by 1 inch slices
6 cloves garlic, crushed
Directions
1. Clean and pick through dal for any small stones and grit. Rinse several times in cold water until water is fairly clear. Soak in 4 cups water in a saucepan for 15 minutes.
2. Bring dal to a boil over medium-high heat. Skim any froth off the top. Reduce heat to low. Stir in turmeric and boil gently, partially covered, until dal is soft and mushy, 25 to 30 minutes. Using an immersion blender or in a blender, in batches if necessary, puree dal mixture until smooth. Set aside.
3. Meanwhile, in another saucepan, heat 1 tablespoon of the oil over high heat until a couple of mustard seeds thrown in start to sputter. Add all the mustard seeds and cover quickly. When the seeds stop popping, in a few seconds, uncover, Reduce heat to medium and add cumin and chiles and sauté for 30 seconds. Add salt, coriander, and cayenne and sauté for 1 minute. Add cilantro and sauté for 1 minute.
4. Add mango, including the large seed, and sauté for 4 minutes. Add 1 1/2 cups water. Cover and cook until mango softens, 7 to 8 minutes. (Do not let mango get mushy.)
5. Pour dal over top of mango and stir. Cover and simmer to allow flavors to blend, 10 to 12 minutes.
6. In a small skillet, heat remaining oil over medium heat. Add garlic and sauté until golden, about 3 minutes. Add to dal. Do not stir. Remove from heat, cover immediately and let rest for 3 minutes. Stir dal and garlic together before serving. Serve hot with rice or any Indian bread. Remove mango seed before serving.
Tip:
Green mangoes are not suitable for eating as a fruit and are used for their tartness. Look for one that is dark green and very hard, as it will be sourer. They can sometimes be found in the produce aisle and not in the fruit section of some supermarkets and in Asian and Indian stores.