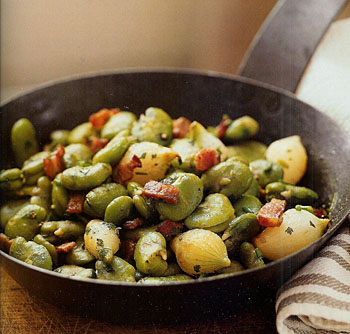 Recipe created by FabFood on

Dec 3, 2008
View more recipes by FabFood.
Prep: –
Cook Time: –
Total: –
Serving: –
Recipes for Fresh Fava Beans with Bacon - Feves a La Tourangelle, an authentic french country recipe from the Loire region.
Ingredients
3 cups/330 grams shelled fava beans (about 3 pounds/1.35 kg in the pod)
salt and pepper
3 tablespoons/45 g butter
4 thick slices lean bacon (about 4 ounces/110g total), diced
24 baby onions (about 12 ounces/330 g total)
2 tablespoons chopped fresh chives
2 tablespoons chopped fresh chervil or parsley
Directions
Bring a sauce pan of salted water to a boil, add the fava beans and simmer until tender but still slightly crunchy, 2 to 7 minutes, depending on their size and age.  Drain, reserving 1/2 cup /125 ml of the cooking liquid.  Rinse the beans with cold water and drain thoroughly.  Peel them by pinching open the stem end of each bean with your thumbnail and popping the bean into a bowl.  Set the beans aside.
For the onioons, melt the butter in a frying pan over medium heat.  Add the bacon and fry until lightly browned, 3 to 5 minutes.  Remove the bacon with a Draining spoon and set aside.  Add the onions to the pan, cover, and cook over low heat, shaking the pan often so they color evenly, until the onions are lightly browned and nearly tender, 12 to 15 minutes.  Return the bacon to the pan, add the reserved cooking liquid, and simmer for 5 minutes to blend the flavors.  Stir in the beans, chives, chervil, and warm them for 2 to 3 minutes.  Taste and adjust the seasoning.  The beans may also be kept in the refrigerator for up to 1 day and reheated on the stove top; add the herbs at the last minute.