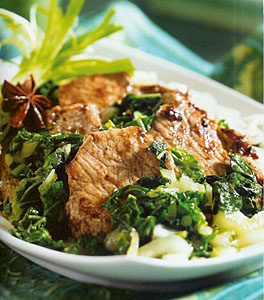 Recipe created by FabFood on

Dec 24, 2007
View more recipes by FabFood.
Prep: –
Cook Time: –
Total: –
Serving: –
Recipe for Five Spice Pork with Bok Choy and Green Onions. Five Spice Powder is an extraordinary melange of aromatic spices that brings marvelous flavor to meat dishes all across Asia.
Ingredients
1 tablespoon soy sauce
1 tablespoon dry sherry or Shaoxing rice wine
1 teaspoon five spice powder
1 teaspoon cornstarch
8 ounces boneless pork, such or loin or tenderloin, thinly sliced
1 tablespoon chicken stock or water
1 teaspoon brown sugar, or granulated sugar
1 teaspoon salt, or to taste
2 tablespoons vegetable oil
2 tablespoons chopped garlic
1 cup chopped bok choy
3 tablespoons chopped green onions
Directions
1. In a bowl, combine soy sauce, sherry, five spice powder and cornstarch and stir well into a smooth sauce. Add pork and stir to coat evenly. Set aside for 10 minutes.
2. In a small bowl, combine chicken stock, sugar, and salt and stir well. Set aside.
3. Heat a wok or a large deep skillet over medium heat. Ad oil and swirl to coat the pan. Add garlic and toss well, until fragrant, about 15 seconds.
4. Add pork mixture and spread into a single layer. Cook, undisturbed, until edges change color, about 30 seconds. toss well. Cook, turning occasionally, until no longer pink, about 1 minute more.
5. Add bok choy and toss well. Add chicken stock mixture and cook, tossing occasionally, until pork is cooked through, 1 to 2 minutes more. Add green onions and toss well. Transfer to a serving plate. Serve hot or warm.
Tip:
For 1 cup bok choy you'll need about 3 leafy stalks. Trim 1 inch from the base of each stalk and then halve it lengthwise. Chop resulting strips crosswise into 1 inch lengths. You'll have bite sized pieces, roughly 1 1/2 inches by 1 inch. If bok choy leaves are very large, cut them lengthwise into 3 or 4 pieces, rather than in half.