1-2 of 2 total recipes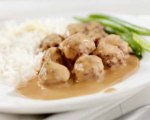 Swedish meatballs are a traditional Scandanavian comfort food that your family will love. This recipe calls for both ground pork and ground beef. The result is a flavorfull, hearty meal. Serve...
Recipe provided by FabFood on Feb 24, 2011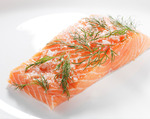 Recipe for chef Rozanne Gold's Swedish Cured Salmon. This ingeniously simple recipe takes only three ingredients to prepare, but packs a ton of flavor.
Recipe provided by FabFood on Jul 23, 2007